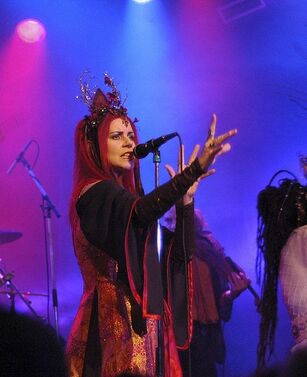 Monica Vivienne Richards (born 1965) is an American poet, songwriter, singer, artist, and prose author.
Richards was born in Washington, D.C. She graduated from American University with honors in literature and a minor in anthropology.
She started singing when she was in her teens and was one of the earliest female singers in the harDCore scene. She is considered to be an icon of the goth subculture and has been the frontwoman of numerous bands including Madhouse, Strange Boutique, and Faith and the Muse, as well as being a solo-artist.
Richards works in a number of different media for her visual art. In her early days as an artist she designed punk rock flyers, album covers and local business logos, among other things. Her work now ranges from painting to graphic art.
Richards' debut collection, a compilation of art, poetry, essays, and re-writings of Welsh-Celtic tales called The Book of Annwyn, was released in the spring of 1998.
The Little Red Book of Poetry. 1999.
The Muse Inward. 2004.
Anafae

Liber Prima: Awakening. 2006.
Liber Duex: Recollection. 2008.
3 - Dreams of Dragons. 2009.
The Garden Book of Ghosts. 1999.
The Book of Annwyn (poetry & stories). 1998.

Except where noted, bibliographical information courtesy Monica Richards..[1]
Solo
2007: InfraWarrior
2012: Naiades
Lyrics
Audio / video
About
Community content is available under
CC-BY-SA
unless otherwise noted.