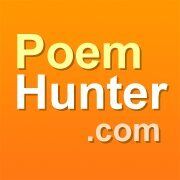 PoemHunter is an online poetry site that contains almost 800,000 poems.
PoemHunter.com was founded by C. Ekrem Teymur, and has been publishing online since January 1, 2004.[1]
PoemHunter.com aims to spread the effects of poetry in the social and individual life, where they see a continuous change in progress via the Internet. PoemHunter.com, without a pause, continues its activities with the active participation of thousands of members.[1]
As of April 2011, PoemHunter.com had archived 790,743 poems, from 77,847 poets.[1]
Community content is available under
CC-BY-SA
unless otherwise noted.