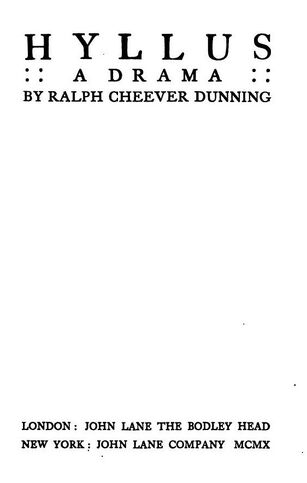 Ralph Cheever Dunning (1878-1930) was an American poet.[1]
Dunning was born in Detroit, Michigan. He immigrated to Paris in 1905.[1]
Dunning was remarkably apathetic about publication. His first book, Hyllas, was published in London in 1910. Thereafter he submitted nothing to publishers for over a decade. In the early 1920's he befriended Ezra Pound, who convinced him to submit work to Poetry and the Transatlantic Review. Both literary magazines published generous selections of Dunning's work, to Pound's delight if not Dunning's.[2]
There is some evidence that Dunning was addicted to opium (which could explain his apathy toward publication), and that Pound was supplying him with it. Pound was also buying food for him, but often Dunning simply "forgot to eat".[3]
Dunning died in Paris of starvation and tuberculosis.[1]
Publications
Edit
An Italian Tale: Written in terza rima with double rimes throughout. Paris: privately published, 1913.
Rococo: A poem. Paris: E.W. Titus, 1926.
Windfalls. Paris: E.W. Titus, 1929.

Except where noted, bibliographical information courtesy WorldCat.[4]
References
Edit
External links
Edit
Poems
About
This is a signed article by User:George Dance. It may be edited for spelling errors or typos, but not for substantive content except by its author. If you have created a user name and verified your identity, provided you have set forth your credentials on your user page, you can add comments to the bottom of this article as peer review.
Community content is available under
CC-BY-SA
unless otherwise noted.