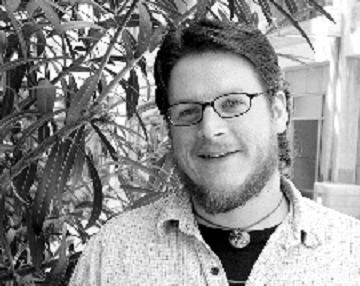 Robert Budde (born September 6, 1966) is an American-born Canadian poet, novelist, and academic.
Budde was born in Minneapolis, Minnesota. He moved to Canada in 1970.[1]
He attended the University of Manitoba, where he earned a B.Ed. in 1989, a B.A. in Canadian studies in 1991, and an M.A. in English in 1993. He earned a Ph.D. in 1996 from the University of Calgary.[2]
Budde lives in Prince George, British Columbia, where he teaches creative writing and critical theory at the University of Northern British Columbia.[3]
Budde's work has appeared in numerous literary magazines including Canadian Literature, Capilano Review, West Coast Line, Dusie, ditch, filling Station, Prairie Fire, Matrix, and dandelion. He is also a regular columnist for Northword Magazine.[4]
He publishes the online literary magazine stonestone.[5]
Recognition
Edit
Budde has been a finalist for both the John Hirsch Award for most promising Manitoba writer and the McNally-Robinson Manitoba Book of the Year.[1]
Publications
Edit
traffick. Winnipeg, MB: Turnstone, 1999.[2]
The Dying Poem. Toronto: Coach House, 2002.
Did You Say?: For Fred embarking. Maxville, ON: above / ground, 2003.
A Sleep of Faith. Prince George, BC: Wink Books, 2005.
Finding Fort George. Mediera Park, BC: Caitlin Press, 2007.
Declining America. Toronto: BookThug, 2009.
Dreamland Theatre: Poems. Halfmoon Bay, BC: Caitlin Press, 2014.
Misshapen (edited by Rudy Wiebe). Edmonton, AB: NeWest Press, 1997.[2]
Short fiction
Edit
flicker. Winnipeg, MB: Signature Editions, 2005.
Non-fiction
Edit
Muddy Water: Conversations with 11 poets. Winnipeg, MB: J. Gordon Shillingford, 2003.[2]
Al Purdy: An introduction. Waterloo, ON: Wilfrid Laurier University Press, 2006.
The Forestry Diversification Project: New Prince George poets. Prince George, BC: University of Northern British Columbia Press, 2006.

Except where noted, bibliographical information courtesy WorldCat. [6]
References
Edit
External links
Edit
Poems
Books
About
Etc.
This is a signed article by User:George Dance. It may be edited for spelling errors or typos, but not for substantive content except by its author. If you have created a user name and verified your identity, provided you have set forth your credentials on your user page, you can add comments to the bottom of this article as peer review.
Community content is available under
CC-BY-SA
unless otherwise noted.