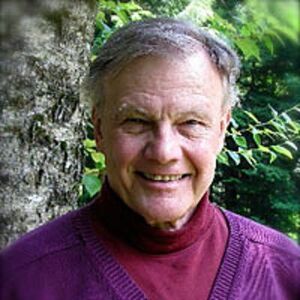 Robert Bagg (born 1935)[1] is an American poet, translator, and academic.
Bagg was born in New Jersey. He earned a B.A. from Amherst in 1957, and (after attending Harvard University as a special student in 1960) a Ph.D. from the University of Connecticut in 1966.[2]
From 1963 to 1965 he taught English at the University of Washington, an from 1965 to 1996 at the University of Massachusetts, where he served as Graduate Director from 1982 to 1986 and as Department Chair from 1986 to 1992.[2]
He has published a half-dozen collections of poetry, and translations of eight plays by Euripides and Sophocles. His translations of Greek plays have been staged in sixty productions worldwide.[2] He has also authored critical studies of Sappho and Catallus.[3]
He lives in western Massachusetts with his wife Mary, a free-lance writer and editor.[2]
Recognition
Edit
Bagg received the Mount Holyoke Irene Glascock Memorial Poetry Prize in 1957, and the Rome Fellowship from the American Academy of Arts and Letters (1958-59). He has held Guggenheim, Ingram Merrill, Rockefeller (Bellagio Residency), NEA, and NEH fellowships.[2]
Publications
Edit
Poems, 1956-1957. Amherst, MA: Spiritus Mundi Press, 1957.
Madonna of the Cello: Poems. Middletown, CT: Wesleyan University Press, 1961.
The Scrawny Sonnets, and other narratives: Poems. Urbana, IL: University of Illinois Press, 1973.
The Worst Kiss, and a few other new poems. Chester, MA: Hollow Spring Press, 1985.
Body Blows: Poems new and selected. Amherst, MA: University of Massachusetts Press, 1988.
Niké, and other poems. Falls Church, VA: Azul Editions, 2005.
Horsegod: Collected poems. Bloomington, IN: iUniverse, 2009.
The Tandem Ride, and other excursions: Selected poems, 1955-2010. Worthington, MA: Spiritus Mundi Press, 2011.
Translated
Edit
Liberations: Three one-act plays taken from ancient originals and loosed upon the modern stage. Northampton, MA: Spiritus Mundi Press, 1969.
Euripides, Hippolytos. New York: Oxford University Press, 1973.
Euripides, The Bakkhai. Amherst, MA: University of Massachusetts Press, 1978.
Sophocles, Oedipus the King. Amherst, MA: University of Massachusetts Press, 1982.
Sophocles, The Oedipus Plays: Oedipus the King, Oedipus at Kolonos, and Antigone (translated with Mary Bagg). Amherst, MA: University of Massachusetts Press, 2004.
The Complete plays of Sophocles: A new translation (translated with James Scully). New York: Harper Perennial, 2011.

Except where noted, bibliographical information courtesy WorldCat.[4]
References
Edit
External links
Edit
Poems
Books
About
This is a signed article by User:George Dance. It may be edited for spelling errors or typos, but not for substantive content except by its author. If you have created a user name and verified your identity, provided you have set forth your credentials on your user page, you can add comments to the bottom of this article as peer review.
Community content is available under
CC-BY-SA
unless otherwise noted.