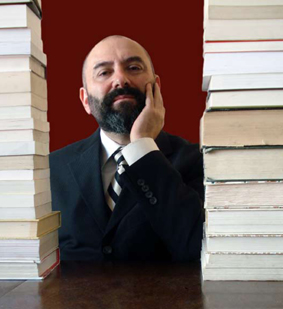 Robert Fitterman (born 1959) is an American poet.[1]
Fitterman was born in St. Louis and raised in Creve Cour, Missouri. He earned a B.A. from the University of Wisconsin–Madison, and an M.A. from Temple University.[1]
He has been a full-time faculty member in the Liberal Studies Program of New York University since 1993, and also teaches poetry at the Milton Avery School of Graduate Studies at Bard College.[2]
Fitterman says of his writing practice, "experimental poetry has a long shelf life. Even if the community is small, the conversation could be vital to the future of the art...Beyond the numbers, what's crucial is to articulate, foster, and engage in a conversation that speaks to the dialogues of the day (and there may be many)."[1]
Recognition
Edit
Metropolis, 1-15 won the Sun & Moon New American Poetry Award (2000), and Metropolis, 16-29 received the Small Press Traffic Book of the Year Award (2003).[2]
Publications
Edit
Leases. New York: Periphery Press, 1988.
The Call: Eight poems. London: Northern Lights, 1988.
Among the Cynics. Philadelphia: Singing Horse Press, 1989.
Some Numbers. Charleston, IL: Tel-Let, 1991.
Ameresque: The Snap Wyatt poems. Washington, DC: Buck Downs Books, 1994.
Metropolis, 1-3. Buffalo, NY: Meow Press, 1994.
Metropolis, 4-12. Elmwood, CT: Potes & Poets Press, 1994.
Metropolis, 1-15. Los Angeles: Sun & Moon, 2000.
Metropolis, 16-20. Washington, DC: Edge Books, 1998.
Reading. Calgary, AB: Housepress, 2002.
Metropolis 16-29. Toronto: Coach House, 2002.
Metropolis XXX: The Decline and Fall Of The Roman Empire. Washington, DC: Edge, 2004.
War: The musical. Oakland, CA: Subpress, 2006.
My Sun Also Also Rises. Calgary, AB: No Press, 2008.
Sprawl: Metropolis 30A. Los Angeles: Make Now, 2009.
Rob the Plagiarist: Others writing, 2000-2008 New York: Roof Books, 2009.
Now we are Friends. New York: Truck Books, 2010.
Holocaust Museum. Denver, CO: Counterpath, 2013.
No, wait. Yep. Definitely still hate myself. Brooklyn, NY: Ugly Duckling Presse, 2014.
Non-fiction
Edit
Notes On Conceptualisms (with Vanessa Place). Brooklyn, NY: Ugly Duckling Presse, 2009.
Just Another Soft Machine. London: Veer, 2014.
Collective Task (edited with Tim Davis). Brooklyn, NY: Patrick Lovelace Editions, 2009.

Except where noted, bibliographical information courtesy WorldCat.[3]
References
Edit
↑ 1.0 1.1 1.2 Robert Fitterman, Poets.org Academy of American Poets. Web, Jan. 16, 2012.
↑ 2.0 2.1 Robert Fitterman, Creative Writing Program, New York University. Web, Sep. 25, 2015.
↑ Search results = au:Robert Fitterman, WorldCat, OCLC Online Computer Library Center Inc. Web, Sep. 25, 2015.
External links
Edit
Poems
Audio / video
Books
About
This is a signed article by User:George Dance. It may be edited for spelling errors or typos, but not for substantive content except by its author. If you have created a user name and verified your identity, provided you have set forth your credentials on your user page, you can add comments to the bottom of this article as peer review.
Community content is available under
CC-BY-SA
unless otherwise noted.