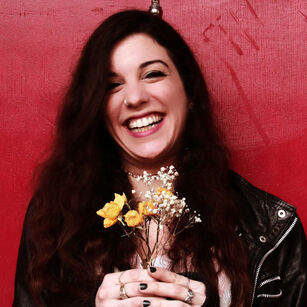 Sabrina Benaim (born November 30, 1987) is a Canadian poet and performance artist.[1] Benaim was a winner of the 2014 Toronto Poetry Slam.[2] She is best known for her poem "Explaining My Depression To My Mother."[3]
Benaim was born in Toronto, Canada.
She is a dropout of Seneca Advertising College.[4]
At age 23, Benaim was found to have a benign tumor in her throat. She took to performance poetry as a way to cope with her health complications, and to raise awareness for issues like anxiety and depression.[5]
Benaim is well known for performing on the Button Poetry YouTube series.[6] She took off on social media through her poem "Explaining My Depression To My Mother."[3] She performed that poem at the National Poetry Slam semi-finals "for the first time, while low-key panicking." When the poem was later put on Button Poetry, it received over 5,000,000 views.[4]
From there she did a tour of Australia, connecting with many of her fans through her poetry, books, and other works which furthered the take off of her career.[7] >
Benaim was a member of Canadian championship-winning 2014 Toronto Poetry Slam (TPS) Team, and a coach of the 2016 TPS team.[8] She also represented Toronto at the Women Of The World Poetry Slam.[9] She has written poetry for ESPNW and the Government of Canada. She made her television debut on Sport Chek.
Her debut collection, Depression, and other magic tricks, was released in August 2017,[10] and was a September book of the month from Canada's Indigo Books.[4]
Her poetry tackles socially relevant issues like mental health, family, and love.[11]
Recognition
Edit
Championship of the 2014 Toronto Poetry Slam
Nominated for Goodreads Best Poetry 2017 Choice Awards.
Publications
Edit
Depression and Other Magic Tricks. Minneapolis, MN: Button Poetry / Exploding Pinecone Press, 2017.[12]
June (Button poetry)[13]
What I Told the Doctor (Genius) [14]
Hurdles/Dreams (Button Poetry)[15]
What I Told the Doctor the Second Time (Button Poetry)[16]
So, I'm Talking to My Depression (Button Poetry)[17]
The Slow Now (Button Poetry)[18]
The Loneliest Sweet Potato (Button Poetry)[19]
References
Edit
External links
Edit
Poems
Books
About
Community content is available under
CC-BY-SA
unless otherwise noted.