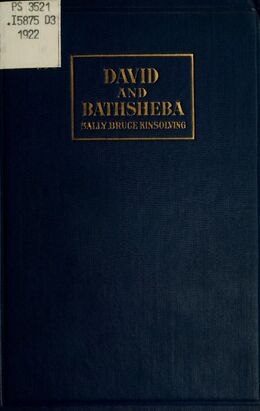 Sally Bruce Kinsolving (February 14, 1876 - April 27, 1962) was an American poet.[1]
Kinsolving was born Sally Archer Bruce in Richmond, Virginia. Her grandfather was Charles Bruce, a former Virginia State Senator. Other notable relatives included her uncles William Cabell Bruce, a former U.S. Senator from Maryland; Thomas Nelson Page, author of short stories, novels, essays, and poetry; Philip Alexander Bruce, Virginia historian; and James Douglas Bruce, Arthurian scholar.[1]
She was educated at her grandfather's home and in private schools.[1]
She married Rev. Arthur Barksdale Kinsolving, a graduate of Virginia Theological Seminary in Alexandria and rector at Christ Episcopal Church in Brooklyn, New York, on February 5, 1886. They had 7 children: Arthur Lee, Sally, Herbert, Mary Bruce, Anne Seddon, Lucinda, and Eleanor. Anne Seddon (m. Anne Seddon Kinsolving Brown) also became a writer.[1]
In 1906 the couple moved to Baltimore, Maryland, where Rev. Kinsolving served as rector at Old St. Paul's Episcopal Church, living at the Rectory at 24 Saratoga Street.[2]
Kinsolving published her first collection of poetry in 1921, and 3 more through 1942.[2]
She co-founded the Poetry Society of Maryland in 1923, and served as its president, 1929-1938.[1] She often hosted well-known poets visiting Baltimore, and held salons in which Society members could meet them, at the Rectory. One of those poets was Carl Sandburg; Sandburg and Kinsolving maintained a lifelong relationship through correspondence, encouraging each other in their work and exchanging poems and folk songs.[3]
In addition to her work with the Poetry Society of Maryland, Kinsolving was a member of the Poetry Society of America, the Catholic Poetry Society of America, and the Academy of American Poets. She was also a member of Phi Beta Kappa Associates, the Baltimore Museum of Art, the Gallery of Living Catholic Authors, and the Edgar Allan Poe Society of Baltimore.[2]
Publications
Edit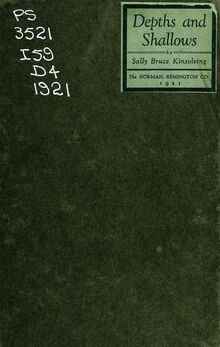 Depths and Shallows. Baltimore, MD: Norman, Remington, 1921.
David and Bath-sheba, and other poems. Baltimore, MD: Norman, Remington, 1922.
Grey Heather. Portland, ME: Mosher Press, 1930.
Many Waters: Poems. New York: Putnam, 1942.
Non-fiction
Edit
Biographical Data of the Reverend Arthur B. Kinsolving, D.D. (1861-1951). Baltimore, MD: 1954.

Except where noted, bibliographical information courtesy WorldCat.[4]
References
Edit
↑ 1.0 1.1 1.2 1.3 1.4 Biographical History, Sally Bruce Kinsolving Collection, Pratt Library. Web, July 5, 2015.
↑ 2.0 2.1 2.2 "Little-known drawings reveal details of Poe's home," Poe Museum. Web, July 2, 2015.
↑ Amelia Grabowski, "Carl Sandburg at the Old St. Paul's Rectory," Baltimore Heritage. Web, July 5, 2015.
↑ Search results = au:Sally Bruce Kinsolving, WorldCat, OCLC Online Computer Library Center Inc. Web, July 5, 2015.
External links
Edit
Poems
Books
About
This is a signed article by User:George Dance. It may be edited for spelling errors or typos, but not for substantive content except by its author. If you have created a user name and verified your identity, provided you have set forth your credentials on your user page, you can add comments to the bottom of this article as peer review.