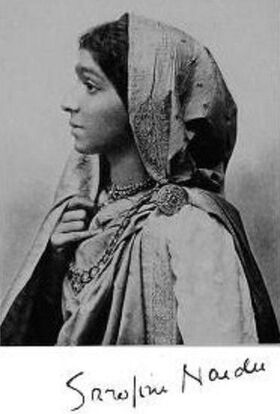 Sarojini Naidu(13 February 1879 - 2 March 1949), also known by the sobriquet The Nightingale of India (Bharatiya Kokila),[1] was an Indian poet. A child prodigy, she later became an Indian independence activist.
Naidu was the second Indian woman to become the President of the Indian National Congress,[2] and the first woman to become the Governor of Uttar Pradesh state.[3]
Naidu was born Sarojini Chattopadhyay to a Bengali family of Kulin Brahmins. She was born in Hyderabad, India as the eldest daughter of scientist, philosopher, linguist and educator Aghornath Chattopadhyaya, and Barada Sundari Devi, a Bengali poetess. After receiving a doctor of science degree from Edinburg University, her father settled in Hyderabad State, where he founded and administered the Hyderabad College, which later become the Nizam College
Education
Edit
Naidu was a brilliant student, proficient in Urdu, Telugu, English, Bengali, and Persian.[4] At the age of 12, she attained national fame when she topped the matriculation examination at Madras University. Her father wanted her to become a mathematician or scientist, but Sarojini Naidu was interested in poetry. She began writing poems in English.
Impressed by her play Maher Muneer, the Nizam of Hyderabad gave her a scholarship to study abroad.[5] At the age of 16, she traveled to England to study first at King's College London and later at Girton College, Cambridge.[6] There she met famous laureates of her time such as Arthur, Symons and Edmond Gosse. It was Gosse who convinced Sarojini to stick to Indian themes-India's great mountains, rivers, temples, social milieu, to express her poetry. She depicted contemporary Indian life and events. Her collections "The golden threshold (1905)", "The bird of time (1912)", and "The broken wing (1917)" attracted huge Indian and English readership.[7]
Literary career
Edit
Sarojini Naidu began writing at the age of 12. Her play, Maher Muneer, impressed the Nawab of Hyderabad. In 1905, her collection of poems, The Broken exs, was published.[8]
Her poems were admired by many prominent Indian politicians like Gopala Krishna Gokhale and Jawaharlal Nehru.
Indian Freedom Fighter
Edit
Sarojini Naidu joined the Indian national movement in the wake of partition of Bengal in 1905. She came into contact with Gopal Krishna Gokhale, Rabindranath Tagore, Muhammad Ali Jinnah, Annie Besant, C. P. Ramaswami Iyer, Mahatma Gandhi and Jawaharlal Nehru.[9]
During 1915-1918, she traveled to different regions in India delivering lectures on social welfare, women empowerment, and nationalism. She awakened the women of India and brought them out of the kitchen. She also helped to establish the Women's Indian Association (WIA) in 1917.[10] She was sent to London along with Annie Besant, President of WIA, to present the case for the women's vote to the Joint Select Committee.
President of the Congress
Edit
In 1925, Sarojini Naidu presided over the annual session of Indian National Congress at Cawnpore. In 1929, she presided over East African Indian Congress in South Africa. She was awarded the Kaiser-i-Hind medal by the British government for her work during the plague epidemic in India.[11] In 1931, she participated in the Round table conference with Gandhiji and Madan Mohan Malaviya.[12] Sarojini Naidu played a leading role during the Civil Disobedience Movement and was jailed along with Gandhiji and other leaders. In 1942, Sarojini Naidu was arrested during the "Quit India" movement and was jailed for 21 months with Gandhiji. She shared a very warm relationship with Gandhiji and used to call him "Mickey Mouse".[13]
Recognition
Edit
Her birthday is celebrated as Women's Day in India.[5]
Naidu writes:
"Shall hope to prevail where clamorous hate is rife,
Shall sweet love prosper or high dreams have place
Amid the tumult of reverberant strife
'Twixt ancient creeds, 'twixt race and ancient race,
That mars the grave, glad purposes of life,
Leaving no refuge save thy succoring face?"[14]
Naidu said, "When there is oppression, the only self-respecting thing is to rise and say this shall cease today, because my right is justice."[15] She adds, "If you are stronger, you have to help the weaker boy or girl both in play and in the work."
Publications
Edit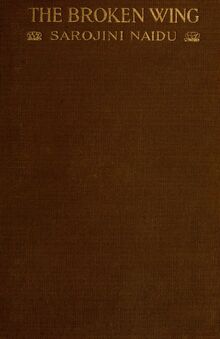 The Golden Threshhold (introduction by Arthur Symonds). London: Heinemann, 1905.
The Bird of Time: Songs of life,death, and the spring. London: Heinemann, 1912.
The Broken Wing: Songs of love, death, and destiny. New York: John Lane / London: Heinemann, 1917
The Sceptred Flute: Songs of India. 1917; New York: Dodd, Mead, 1928.
Select Poems (edited by H.G. Dalway Turnbull). Bombay: Oxford University Press, 1930.
The Feather of the Dawn (edited by her daughter, Padmaja Naidu). Bombay & New York: Asia Publishing House, 1961.
Five Indian Poems: For mixed choir and small orchestra (music by Robert Hughes). Sydney: Chappell, 1973.
Non-fiction
Edit
India's Future (with C.F. Andrews & S.K. Ratcliffe). New York: Foreign Policy Association, 1920.
Collected editions
Edit
Speeches and Writings. Madras: G.A. Nateson, 1925.
Selected Poetry and Prose (edited by Makarand R. Paranjape). New Delhi: Indus, 1993; New Delhi: Rupa, 2010.
Mohomed Ali Jinnah: An ambassador of unity: His speeches & writings, 1912-1917. Madras: Ganesh, 1918; Lahore, Pakistan: Atish Fishnan, 1989.
Selected Letters, 1890s to 1940s (edited by Makarand R. Paranjape). New Delhi: Kali for Women, 1996.

Except where noted, bibliographical information courtesy WorldCat.[17]
Famous Poems
Edit
Damayante to Nala in the Hour of Exile
Ecstasy
Indian Dancers
The Indian Gypsy
Indian Love-Song
Indian Weavers
In Salutation to the Eternal Peace
In the Forest
Leili
Nightfall in the City of Hyderabad
Palanquin Bearers
The Pardah Nashin
Past and Future
The Queen's Rival
The Royal Tombs of Golconda
The Snake-Charmer
Song of a Dream
The Soul's Prayer
Suttee
To a Buddha Seated on a Lotus
To the God of Pain
Wandering Singers
Street Cries
Alabaster
Autumn Song
References
Edit
External links
Edit
Poems
Books
About