Shaunt Basmajian (September 30, 1950 - January 25, 1990) was a Canadian poet.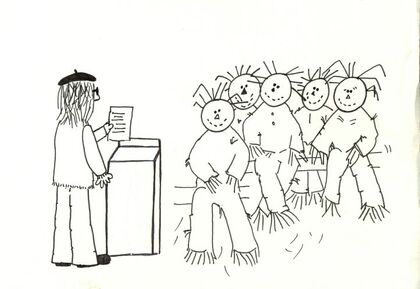 Born in Beirut, Lebanon, to Armenian parents, Basmajian emigrated to Canada when he was 7 years old.[1]
He was a founder of the Canadian Poetry Association, co-founder of Old Nun Publications (with Ted Plantos), and a member of the Parliament Street Library poetry group.[1]
In 1986, he was attacked with a knife and robbed while he was driving a taxi. His right lung was punctured when the robber stabbed him. He passed away peacefully in his parents' home on Bayview Avenue in north York one year later.[2]
Quotations
Edit
"I read the paper / and stay awake all night / writing poems / trying to forget everything / dreaming of a new world / a solution / an answer / in the aftermath"
—Shaunt Basmajian, excerpt from "On That Other Day In The Life Of Arto Sarkissian," Poets Who Don't Dance, 1985.
Recognition
Edit
The Shaunt Basmajian Chapbook Award, given annually to a Canadian poet, was established in his memory. The contest ran annually from 1996 to 2008.
Publications
Edit
Spare Change: Poems. Scarborough, ON: HMS Press / Fredericton, NB: New Brunswick Chapbooks, 1972.
Surplus Waste, and other poems. Toronto: Unfinished Monument Press, 1982.
Success, a Playhouse, and Adults. Toronto: CURVD H&Z, 1982.
8 Irritations. Toronto : CURVD H&Z, 1983.
Poets Who Don't Dance. Toronto: Unfinished Monument Press, 1985.
Haiku, 1972-1982. Aylmer, QC: Haiku Canada, [1986?]
Biased Analogies. Perth, ON: Anthos Books, 1987.
Other channels : an anthology of new Canadian poetry (edited with Daniel Jones). Toronto: published by the Associate Members, League of Canadian Poets, 1984.
Bfp(h)aGe: An anthology of visual poetry and collage (edited with Brian David Johnston). Toronto, ON: Sober Minute Press, 1989.

Except where noted, bibliographical information courtesy WorldCat.[3]
References
Edit
External links
Edit
Poems
Books
Community content is available under
CC-BY-SA
unless otherwise noted.