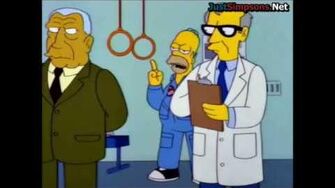 "There once was a man from Nantucket" is the opening line for many limericks. The popularity of this this literary trope can be attributed to the way the name of the island of Nantucket lends itself easily to humorous rhymes and puns, particularly ribald ones.
The earliest published version appeared in 1902 in the Princeton Tiger:[1][2][3]
There once was a man from Nantucket
Who kept all his cash in a bucket.
    But his daughter, named Nan,
    Ran away with a man
And as for the bucket, Nantucket.
Other publications seized upon the "Nantucket" motif, spawning many sequels. Of these, perhaps the two most famous[4][5] appeared, respectively, in the Chicago Tribune and the New York Press:
Pa followed the pair to Pawtucket,
The man and the girl with the bucket;
    And he said to the man,
    He was welcome to Nan,
But as for the bucket, Pawtucket.
Then the pair followed Pa to Manhasset,
Where he still held the cash as an asset;
    But Nan and the man
    Stole the money and ran,
And as for the bucket, Manhasset.
The many ribald versions of the limerick are the basis for its lasting popularity. In the many vulgar versions, the Mythopoeia protagonist is typically portrayed as a well-hung, hypersexualized persona. Many variations on the theme are possible because of the ease of rhyming Nantucket with certain vulgar phrases. The following example comes from Immortalia: An anthology of American ballads, sailors' songs, cowboy songs, college songs, parodies, limericks, and other humorous verses and doggerel, published in 1927.[6]
There once was a man from Nantucket
Whose dick was so long he could suck it.
    And he said with a grin
    As he wiped off his chin,
"If my ear were a cunt, I would fuck it."
The poem has become a staple of American humor, both as an iconic example of dirty poetry and as a joking example of fine art, whose vulgarity and simple form provide a surprise contrast to an expected refinement. Some examples:
Little Blue Book, number 1018. "A Book of Humorous Limericks". pp. 40–41
Community content is available under
CC-BY-SA
unless otherwise noted.