Thomas Carlyle (December 4, 1795 - February 5, 1881) was a Scottish poet, essayist, satirist, and historian, whose writings were highly influential during the Victorian era.
Carlyle was born at Ecclefechan in Dumfriesshire. His father, James Carlyle, was a stonemason, a man of intellect and strong character, and his mother was, as he said, "of the fairest descent, that of the pious, the just, and the wise." His earliest education was received at the parish school of Ecclefechan. He then went to the Grammar School of Annan, and in 1809 to the University of Edinburgh, the 90 miles to which he travelled on foot. After completing his "Arts" course, he went on to divinity with the view of entering the Church, but about the middle of his course found that he could not proceed. He became a schoolmaster first at Annan and then at Kirkcaldy. Returning in 1819 to Edinburgh he for a time studied law and took pupils; but his health was bad, he suffered from insomnia and dyspepsia, and he tired of law. For the next 2 years, 1822-1824, he acted as tutor. On the termination of this engagement he decided upon a literary career, which he began by contributing articles to the Edinburgh Encyclopædia. In 1824 he translated Legendre's Geometry (to which he prefixed an essay on "Proportion)," and Goethe's Wilhelm Meister; he also wrote for the London Magazine a "Life of Schiller." About this time he visited Paris and London, where he met Hazlitt, Campbell, Coleridge, and others. In the following year (1826) he married Jane Baillie Welsh, and settled in Edinburgh. Here his first work was Specimens of German Romance (4 vols.) A much more important matter was his friendship with Jeffrey and his connection with the Edinburgh Review, in which appeared, among others, his essays on Richter, Burns, Characteristics, and German Poetry. In 1828 Carlyle applied unsuccessfully for the Chair of Moral Philosophy in St. Andrews, and the same year he went to Craigenputtock, a small property in Dumfriesshire belonging to Mrs. Carlyle, where they remained for several years, and where many of his best essays and Sartor Resartus were written, and where his correspondence with Goethe began. In 1831 he went to London to find a publisher for Sartor, but was unsuccessful, and it did not appear in book form until 1838, after having come out in Fraser's Magazine in 1833-1834. 1838 found him settled in Cheyne Row, Chelsea, his abode for the rest of his life. He immediately set to work on his French Revolution. Its originality, brilliance, and vividness took the world by storm, and his reputation as one of the foremost men of letters in the country was at once and finally established. In the same year he delivered 4 courses on German Literature, Periods of European Culture, Revolutions of Modern Europe, and Heroes and Hero-Worship, the page last of which was published as a book in 1841. Books now followed each other rapidly, Chartism had appeared in 1839, Past and Present came out in 1843, and Letters and Speeches of Oliver Cromwell in 1845. In 1851 he began his largest, if not his greatest work, Frederick the Great, which occupied him from that year until 1865, and in connection with which he made 2 visits to Germany in 1852 and 1858. In 1865 he was elected Lord Rector of the University of Edinburgh. Almost immediately afterwards a heavy blow fell upon him in the death of Mrs. Carlyle, and in the discovery, from her diary, of how greatly she had suffered, unknown to him, from the neglect and want of consideration which, owing to absorption in his work and other causes, he had perhaps unconsciously shown. Whatever his faults, of which the most was made in some quarters, there can be no doubt that he and his wife were sincerely attached to each other, and that he deeply mourned her. In 1866 his Reminiscences (published 1881) were written. The Franco-German War of 1870-71 profoundly interested him, and evoked a plea for Germany. From this time his health began to give way more and more. In 1872 his right hand became paralysed. In 1874 he received the distinction of the Prussian Order of Merit, as the biographer of its founder, and in the same year, Mr. Disraeli offered him the choice of the Grand Cross of the Bath or a baronetcy and a pension, all of which he declined. The completion of his 80th year in 1875 was made the occasion of many tributes of respect and veneration, including a gold medal from some of his Scottish admirers. He died on February 5, 1881. Burial in Westminster Abbey was offered, but he had left instructions that he should lie with his kindred. He bequeathed the property of Craigenputtock to the University of Edinburgh.[1]
Youth and education
Edit
Carlyle was born on 4 December 1795 at Ecclefechan, in Annandale, the eldest of the 9 children of James Carlyle by his 2nd wife, Janet (Aitken). The father was by trade a mason, and afterwards a small farmer. He had joined a sect of seceders from the kirk, and had all the characteristics of the typical Scottish Calvinist. He was respected for his integrity and independence, and a stern outside covered warm affections. The family tie between all the Carlyles was unusually strong, and Thomas regarded his father with a reverence which found forcible expression in his Reminiscences. He always showed the tenderest love for his mother, and was the best of brothers.[2]
The narrow means of his parents were made sufficient by strict frugality. Thomas was sent to the parish school when 7, and to Annan grammar-school when 10 years old. His pugnacity brought him into troubles with his fellows at Annan; but he soon showed an appetite for learning which induced his father to educate him for the ministry.[2]
He walked to Edinburgh in November 1809, and entered the university. He cared little for any of the professors, except Sir John Leslie, from whom he learned some mathematics. He acquired a little classical knowledge, but the most valuable influence was that of his contemporaries. A few lads in positions similar to his own began to look up to him as an intellectual leader, and their correspondence with him shows remarkable interest in literary matters.[2]
Early career
Edit
In 1814 Carlyle, still looking forward to the career of a minister, obtained the mathematical mastership at Annan. The salary of £60 or £70 a year enabled him to save a little money. He went to Edinburgh once or twice, to deliver the discourses required from students of divinity. He does not seem, however, to have taken to his profession very earnestly. He was too shy and proud to see many of the Annan people, and found his chief solace in reading such books as he could get.[2]
In 1816 he was appointed, through the recommendation of Leslie, to a school at Kirkcaldy, where Edward Irving, Carlyle's senior by 3 years, was also master of a school. Irving's severity as a teacher had offended some of the parents, who set up Carlyle to be his rival. A previous meeting with Irving, also a native of Annan, had not gone well, but Irving now welcomed Carlyle with a generosity which entirely won his heart, and the rivals soon became the closest of friends. The intimacy, affectionately commemorated in his Reminiscences, was of great importance to Carlyle's whole career. "But for Irving," he says, "I had never known what the communion of man with man means." Irving had a library,[2] in which Carlyle devoured Gibbon and much French literature, and they made various excursions together.[3]
Carlyle did his duties as a schoolmaster punctiliously, but found the life thoroughly uncongenial. No man was less fitted by temperament for the necessary drudgery and worry. A passing admiration for a Miss Gordon is supposed to have suggested the "Blumine" of Sartor Resartus; but he made no new friendships, and when Irving left at the end of 1818 Carlyle also resigned his post.[3]
He had by this time resolved to give up the ministry. He has given no details of the intellectual change which alienated him from the church. He had, however, been led, by whatever process, to abandon the dogmatic system of his forefathers, though he was and always remained in profound sympathy with the spirit of their teaching. A period of severe struggle followed. He studied law for a time, but liked it no better than schoolmastering. He took a pupil or two, and wrote articles for the Edinburgh Encyclopaedia under the editorship of Brewster. He occasionally visited his family, and their unfailing confidence helped to keep up his courage.[3]
Meanwhile he was going through a spiritual crisis. Atheism seemed for a time to be the only alternative to his old creed. It was, however, profoundly repugnant to him. At last, in June 1821, after 3 weeks' total sleeplessness, he went through the crisis afterwards described quite "literally" in Sartor Resartus. He cast out the spirit of negation, and henceforth the temper of his misery was changed to, not "whining," but "indignation and grim fire-eyed defiance." That, he says, was his spiritual new-birth, though certainly not into a life of serenity.[3]
The conversion was coincident with Carlyle's submission to a new and very potent influence. In 1819 he had begun to study German, with which he soon acquired a very remarkable familiarity. Many of his contemporaries were awakening to the importance of German thought, and Carlyle's knowledge enabled him before long to take a conspicuous part in diffusing the new intellectual light. The chief object of his reverence was Goethe. In many most important respects no two men could be more unlike; but, for the present, Carlyle seems to have seen in Goethe a proof that it was possible to reject outworn dogmas without sinking into materialism. Goethe, by singularly different methods, had emerged from a merely negative position into a lofty and coherent conception of the universe.[3]
Meanwhile, Carlyle's various anxieties were beginning to be complicated by physical derangement. A rat, he declared, was gnawing at the pit of his stomach. He was already suffering from the ailments, whatever their precise nature, from which he never escaped. He gave vent to his irritability by lamentations so grotesquely exaggerated as to make it difficult to estimate the real extent of the evil.[3]
Irving's friendship now became serviceable. Carlyle's confession of the radical difference of religious opinion had not alienated his friend, who was settling in London, and used his opportunities for promoting Carlyle's interest. In January 1822 Carlyle, through Irving's recommendation, became tutor to Charles and Arthur Buller, who were to be students at Edinburgh. Carlyle's salary was £200 a year, and this, with the proceeds of some literary work, enabled him at once to help his brother John to study medicine and his brother Alexander to take up a farm.[3]
Carlyle spent some time with the elder Bullers, but found a life of dependence upon fashionable people humiliating and unsatisfactory. He employed himself at intervals upon a life of Schiller and a translation of Wilhelm Meister. He received £50 for a translation of Legendre's Geometry; and an introduction, explaining the theory of proportion, is said by De Morgan to show that he could have gained distinction as an expounder of mathematical principles. He finally gave up his tutorship in July 1824, and for a time tried to find employment in London.[3]
The impressions made upon him by London men of letters were most unfavorable. Carlyle felt by this time conscious of having a message to deliver to mankind, and his comrades, he thought, were making literature a trade instead of a vocation, and prostituting their talents to frivolous journalism. He went to see Samuel Taylor Coleridge, who was then delivering his oracular utterances at Highgate, and the only result was the singularly vivid portrait given in a famous chapter in his life of Sterling. Coleridge seemed to him to be ineffectual as a philosopher, and personally to be a melancholy instance of genius running to waste.[3]
Carlyle, conscious of great abilities, and impressed by such instances of the deleterious effects of the social atmosphere of London, resolved to settle in his native district. There he could live frugally and achieve some real work. He could, for one thing, be the interpreter of Germany to England. A friendly letter from Goethe, acknowledging the translation of Wilhelm Meister, reached him at the end of 1824 and greatly encouraged him. Goethe afterwards spoke warmly of the life of Schiller, and desired it to be translated into German. Letters occasionally passed between them in later years, which were edited by Professor Charles Eliot Norton in 1887. Goethe received Carlyle's homage with kind complacency. The gift of a seal to Goethe on his birthday in 1831 "from fifteen English friends," including Walter Scott and William Wordsworth, was suggested and carried out by Carlyle.[3]
The interest in German, which Carlyle did so much to promote, suggested to him other translations and reviews during the next few years, and he made some preparations for a history of German literature. British curiosity, however, about such matters seems to have been soon satisfied, and the demand for such work slackened.[3]
Carlyle was meanwhile passing through the most important crisis of his personal history. Jane Baillie Welsh, born 1801, was the only child of Dr Welsh of Haddington. She had shown precocious talent, and was sent to the school at Haddington where Irving was a master. After her father's death in 1819 she lived with her mother, and her wit and beauty attracted many admirers. Her old tutor, Irving, was now at Kirkcaldy, where he became engaged to a Miss Martin. He visited Haddington occasionally in the following years, and a strong mutual regard arose between him and Miss Welsh. They contemplated a marriage, and Irving endeavored to obtain a release from his previous engagement. The Martin family held him to his word, and he took a final leave of Miss Welsh in 1822.[3]
Meanwhile he had brought Carlyle from Edinburgh and introduced him to the Welshes. Carlyle was attracted by the brilliant abilities of the young lady, procured books for her and wrote letters to her as an intellectual guide. The 2 were to perform a new variation upon the theme of Abelard and Héloïse. [A good deal of uncertainty long covered the precise character of their relations. Until 1909, when Alexander Carlyle published his edition of the "love-letters," the full material was not accessible; they had been read by Carlyle's biographer, Froude, and also by Norton, and Norton (in his edition of Carlyle's Early Letters, 1886) declared that Froude had distorted the significance of this correspondence in a sense injurious to the writers. The publication of the letters certainly seems to justify Norton's view.][3]
Miss Welsh's previous affair with Irving had far less importance than Froude ascribes to it; and she soon came to regard her past love as a childish fancy. She recognized Carlyle's vast intellectual superiority, and the respect gradually deepened into genuine love. The process, however, took some time. Her father had bequeathed to her his whole property (£200 to £300 a year). In 1823 she made it over to her mother, but left the whole to Carlyle in the event of her own and her mother's death. She still declared that she did not love him well enough to become his wife.[3]
In 1824 she gradually relented so far as to say that she would marry if he could achieve independence. She had been brought up in a station superior to that of the Carlyles, and could not accept the life of hardship which would be necessary in his present circumstances. Carlyle, accustomed to his father's household, was less frightened by the prospect of poverty. He was determined not to abandon his vocation as a man of genius by following the lower though more profitable paths to literary success, and expected that his wife should partake in the necessary sacrifice of comfort.[3]
The natural result of such discussions followed. The attraction became stronger on both sides,[3] in spite of occasional spasms of doubt. An odd incident precipitated the result. A friend of Irving's, Mrs Basil Montague, wrote to Miss Welsh, to exhort her to suppress her love for Irving, who had married Miss Martin in 1823. Miss Welsh replied by announcing her intention to marry Carlyle; and then told Carlyle the whole story, of which he had previously been ignorant. He properly begged her not to yield to the impulse without due consideration. She answered by coming at once to his father's house, where he was staying; and the marriage was finally settled. It took place on 17 October 1826.[4]
Carlyle had now to arrange the mode of life which should enable him to fulfil his aspiration. His wife had made over her income to her mother, but he had saved a small sum upon which to begin housekeeping. A passing suggestion from Mrs Carlyle that they might live with her mother was judiciously abandoned. Carlyle had thought of occupying Craigenputtock, a remote and dreary farm belonging to Mrs Welsh. His wife objected his utter incapacity as a farmer; and they finally took a small house at Comely Bank, Edinburgh, where they could live on a humble scale.[4]
The brilliant conversation of both attracted some notice in the literary society of Edinburgh. The most important connexion was with Francis, Lord Jeffrey, still editor of the Edinburgh Review. Though Jeffrey had no intellectual sympathy with Carlyle, he accepted some articles for the Review and became warmly attached to Mrs. Carlyle. Carlyle began to be known as leader of a new "mystic" school, and his earnings enabled him to send his brother John to study in Germany. The public appetite, however, for "mysticism" was not keen. In spite of support from Jeffrey and other friends, Carlyle failed in a candidature for a professorship at St Andrews.[4]
Carlyle's brother, Alexander, had now taken the farm at Craigenputtock, and the Carlyles decided to settle at the separate dwelling-house there, which would bring them nearer to Mrs. Welsh. They went there in 1828, and began a hard struggle. Carlyle, indomitably determined to make no concessions for immediate profit, wrote slowly and carefully, and turned out some of his most finished work. He laboured "passionately" at Sartor Resartus, and made articles out of fragments originally intended for his history of German literature.[4]
The money difficulty soon became more pressing. John, whom he was still helping, was trying unsuccessfully to set up as a doctor in London; and Alexander's farming failed. In spite of such drawbacks, Carlyle in later years looked back upon the life at Craigenputtock as on the whole a comparatively healthy and even happy period, as it was certainly a time of most strenuous and courageous endeavour. Though often absorbed in his work and made both gloomy and irritable by his anxieties, he found relief in rides with his wife, and occasionally visiting their relations. Their letters during temporary separations are most affectionate.[4]
The bleak climate, however, the solitude, and the necessity of managing a household with a single servant, were excessively trying to a delicate woman, though Mrs. Carlyle concealed from her husband the extent of her sacrifices. The position was gradually becoming untenable. In the autumn of 1831 Carlyle was forced to accept a loan of £50 from Jeffrey, and went in search of work to London, to which his wife followed him. He made some engagements with publishers, though no one would take Sartor Resartus, and returned to Craigenputtock in the spring of 1832.[4]
Jeffrey, stimulated perhaps by his sympathy for Mrs. Carlyle, was characteristically generous. Besides pressing loans upon both Thomas and John Carlyle, he offered to settle an annuity of £100 upon Thomas, and finally enabled John to support himself by recommending him to a medical position.[1] Carlyle's proud spirit of independence made him reject Jeffrey's help as long as possible; and even his acknowledgment of the generosity (in the Reminiscences) is tinged with something disagreeably like resentment. In 1834 he applied to Jeffrey for a post at the Edinburgh Observatory. Jeffrey naturally declined to appoint a man who, in spite of some mathematical knowledge, had no special qualification, and administered a general lecture upon Carlyle's arrogance and eccentricity which left a permanent sense of injury.[4]
In the beginning of 1833 the Carlyles made another trial of Edinburgh. There Carlyle found materials in the Advocates' Library for the article on the "Diamond Necklace," among his most perfect writings, which led him to study the history of the French Revolution. Sartor Resartus was at last appearing in Fraser's Magazine, though the rate of payment was cut down, and the publisher reported that it was received with "unqualified dissatisfaction." Edinburgh society did not attract him, and he retreated once more to Craigenputtock.[4]
After another winter the necessity of some change became obvious. The Carlyles resolved to "burn their ships." They went to London in the summer of 1834, and took a house at 5 (now 24) Cheyne Row, Chelsea, which Carlyle inhabited till his death; the house has since been bought for the public. Irving, who had welcomed him on former occasions, was just dying,— a victim, as Carlyle thought, to fashionable cajoleries. A few young men were beginning to show appreciation. John Stuart Mill had made Carlyle's acquaintance in the previous visit to London, and had corresponded with him. Mill had introduced Ralph Waldo Emerson, who visited Craigenputtock in 1833. Carlyle was charmed with Emerson, and their letters published by Norton show that his regard never cooled. Emerson's interest showed that Carlyle's fame was already spreading in America. Carlyle's connection with Charles Buller, a zealous utilitarian, introduced him to the circle of "philosophical radicals." Carlyle called himself in some sense a radical; and J.S. Mill, though not an intellectual disciple, was a very warm admirer of his friend's genius.[4]
French RevolutionEdit
Mill, who had collected many books upon the French Revolution, was eager to help Carlyle in the history which he was now beginning. Carlyle set to work at once and finished the 1st volume in 5 months. The manuscript, while entrusted to Mill for annotation, was burnt by an accident. Mill induced Carlyle to accept in compensation £100, which was urgently needed. Carlyle took up the task again and finished the whole on 12 January 1837. "I can tell the world," he said to his wife, "'you have not had for a hundred years any book that comes more direct and flamingly from the heart of a living man. Do what you like with it, you ——'"[4]
The publication, 6 months later, of The French Revolution marks the turning-point of Carlyle's career. The book was speedily successful. It was reviewed by Mill in the Westminster and by William Makepeace Thackeray in The Times, and Carlyle, after a heroic struggle, was at last touching land. In each of the years 1837 to 1840 he gave a course of lectures, of which the last only (upon "Hero Worship") was published; they materially helped his finances. By Emerson's management he also received something during the same period from American publishers.[5]
At the age of 45 he had thus become independent. He had also established a position among the chief writers of the day. Young disciples, among whom John Sterling was the most accepted, were gathering round him, and he became an object of social curiosity. Richard Monckton Milnes (Lord Houghton), who won universal popularity by the most genuine kindliness of nature, became a cordial friend. Another important intimacy was with the Barings, afterwards Lord and Lady Ashburton. Carlyle's conversational powers were extraordinary; though, as he won greater recognition as a prophet, he indulged too freely in didactic monologue.[5]
In his prophetic capacity he published 2 remarkable books: Chartism (1829), enlarged from an article which Lockhart, though personally approving, was afraid to take for the Quarterly; and Past and Present (1843), in which the recently published Mediaeval Chronicle was taken as a text for the exposure of modern evils.[5] They may be regarded as expositions of the doctrine implicitly set forth in the French Revolution. Chartism begins with a fierce attack upon the laissez faire theory, which showed blindness to this necessity. The prevalent political economy, in which that theory was embodied, made a principle of neglecting the very evils which it should be the great function of government to remedy.[5]
For some years after Cromwell Carlyle wrote little. His growing acceptance by publishers, and the inheritance of her property by Mrs. Carlyle on her mother's death in 1842, finally removed the stimulus of money pressure. He visited Ireland in 1846 and again in 1849, when he made a long tour in company with Sir Charles Gavan Duffyy, then a young member of the Nationalist party. Carlyle's strong convictions as to the misery and misgovernment of Ireland recommended him to men who had taken part in the rising of 1848. Although the remedies acceptable to a eulogist of Cromwell could not be to their taste, they admired his moral teaching; and he received their attentions, as Duffy testifies, with conspicuous courtesy.[5]
His aversion from the ordinary radicalism led to an article upon slavery in 1849, to which Mill replied, and which caused their final alienation. It was followed in 1850 by the Latterday Pamphlets, containing "sulphurous" denunciations of the do-nothing principle. They gave general offence, and the disapproval, according to Froude, stopped the sale for years. The Life of Sterling (d. 1844), which appeared in 1851, was intended to correct the life by Julius Hare, which had given too much prominence to theological questions. The subject roused Carlyle's tenderest mood, and the Life is one of the most perfect in the language.[5]
Domestic troubles
Edit
Carlyle meanwhile was suffering domestic troubles, unfortunately not exceptional in their nature, though the exceptional intellect and characters of the persons concerned have given them unusual prominence. Carlyle's constitutional irritability made him intensely sensitive to petty annoyances. He suffered the torments of dyspepsia; he was often sleepless, and the crowing of "demon-fowls" in neighbors' yards drove him wild. Composition meant for him intense absorption in his work; solitude and quiet were essential; and he resented interruptions by grotesque explosions of humorously exaggerated wrath.[5]
Mrs. Carlyle had to pass many hours alone, and the management of the household and of devices intended to shield him from annoyances was left entirely to her. House-cleanings and struggles with builders during the construction of a "sound-proof room" taxed her energy, while Carlyle was hiding himself with his family in Scotland or staying at English country houses. Nothing could be more affectionate than his behavior to his wife on serious occasions, such as the death of her mother, and he could be considerate when his attention was called to the facts. But he was often oblivious to the strain upon her energies, and had little command of his temper.[5]
An unfortunate aggravation of the difficulty arose from his intimacy with the Ashburtons. Lady Ashburton, a woman of singular social charm and great ability, appreciated the author, but apparently accepted the company of the author's wife rather as a necessity than as an additional charm. Mrs. Carlyle was hurt by the fine lady's condescension and her husband's accessibility to aristocratic blandishments. Carlyle, as a wise man, should have yielded to his wife's wishes; unluckily, he was content to point out that her jealousy was unreasonable, and, upon that very insufficient ground, to disregard it and to continue his intimacy with the Ashburtons on the old terms. [5]
Mrs. Carlyle bitterly resented his conduct.[5] She had been willing to renounce any aspirations of her own and to sink herself in his glory, but she naturally expected him to recognize her devotion and to value her society beyond all others. She had just cause of complaint, and a remarkable power, as her letters prove, of seeing things plainly and despising sentimental consolations. She was childless, and had time to brood over her wrongs.[6]
She formed a little circle of friends, attached to her rather than to her husband; and to a member of her circle, Giuseppe Mazzini, she confided her troubles in 1846. He gave her admirable advice; and the alienation from her husband, though it continued still to smoulder, led to no further results. A journal written at the same time gives a painful record of her sufferings, and after her death made Carlyle finally conscious of their full extent.[6]
The death of Lady Ashburton in 1857 removed this cause of jealousy; and Lord Ashburton married a 2nd wife in 1858, who became a warm friend of both Carlyles. The cloud which had separated them was thus at last dispersed.[6]
Frederick the GreatEdit
Meanwhile Carlyle had become absorbed in his best and most laborious work. Soon after the completion of the Cromwell he had thought of Frederick for his next hero, and had in 1845 contemplated a visit to Germany to collect materials. He did not, however, settle down finally to the work till 1851. He shut himself up in his study to wrestle with the Prussian Dryasdusts, whom he discovered to be as wearisome as their Puritan predecessors and more voluminous.[6]
He went to Scotland to see his mother, to whom he had always shown the tenderest affection, on her deathbed at the end of 1853. He returned to shut himself up in the "sound-proof room." He twice visited Germany (1852 and 1858) to see Frederick's battlefields and obtain materials; and he occasionally went to the Ashburtons and his relations in Scotland.[6]
The first 2 volumes of Frederick the Great appeared in 1858, and succeeding volumes in 1862, 1864 and 1865. The success was great from the beginning, though it did little to clear up Carlyle's gloom.[6]
During the later labors Mrs Carlyle's health had been breaking. Carlyle, now that happier relations had been restored, did his best to give her the needed comforts; and in spite of his immersion in Frederick, showed her all possible attention in later years. She had apparently recovered from an almost hopeless illness, when at the end of 1865 he was elected to the rectorship of the university of Edinburgh. He delivered an address there on the 2nd of April 1866, unusually mild in tone, and received with general applause.[6]
He was still detained in Scotland when Mrs Carlyle died suddenly while driving in her carriage. The immediate cause was the shock of an accident to her dog. She had once hurt her mother's feelings by refusing to use some wax candles. She had preserved them ever since, and by her direction they were now lighted in the chamber of death. Carlyle was overpowered by her loss. His life thenceforward became more and more secluded, and he gradually became incapable of work.[6]
Last years
Edit
He went to Mentone in the winter of 1866 and began the Reminiscences. He afterwards annotated the letters from his wife, (published in 1883 as Letters and Memorials.) He was, as Froude says, impressed by the story of Johnson's "penance" at Uttoxeter, and desired to make a posthumous confession of his shortcomings in his relations to his wife.[6]
A few later utterances made known his opinions of current affairs. He joined the committee for the defence of Governor Eyre in 1867; he also wrote in 1867 an article upon "shooting Niagara," that is, upon the tendency of the Reform Bill of that year; and in 1870 he wrote a letter defending the German case against France. The worth of his Frederick was acknowledged by the Prussian Order of Merit in 1874. In 1874 Disraeli offered him the Grand Cross of the Bath and a pension. He declined very courteously, and felt some regret for previous remarks upon the minister.[6]
The length of his literary career was now softening old antipathies, and he was the object of general respect. His infirmities enforced a very retired life, but he was constantly visited by Froude, and occasionally by his disciple Ruskin. A small number of other friends paid him constant attention. His conversation was still interesting, especially when it turned upon his recollections, and though his judgments were sometimes severe enough, he never condescended to the scandalous. His views of the future were gloomy. The world seemed to be going from bad to worse, with little heed to his warnings. He would sometimes regret that it was no longer permissible to leave it in the old Roman fashion.[6]
He sank gradually, and died on 4 February 1881. A place in Westminster Abbey was offered, but he was buried, according to his own desire, by the side of his parents at Ecclefechan. He left Craigenputtock, which had become his own property, to found bursaries at the university of Edinburgh. He gave his books to Harvard College.[6]
Carlyle exercised a very powerful influence upon the thought of his age, not only by his own writings and personality, but through the many men of distinction both in literature and active life whom he imbued with his doctrines; and perhaps no better proof of this exists than the fact that much that was new and original when propounded by him has passed into the texture of the national ideas. His style is perhaps the most remarkable and individual in our literature, intensely strong, vivid, and picturesque, but utterly unconventional, and often whimsical or explosive. He had in a high degree the poetic and imaginative faculty, and also irresistible humour, pungent sarcasm, insight, tenderness, and fierce indignation.[1]
Carlyle was a "radical" as sharing the sentiments of the class in which he was born. He had been profoundly moved by the widely-spread distresses in his earlier years. When the yeomanry were called out to suppress riots after the Peace, his sympathies were with the people rather than with the authorities. So far he was in harmony with Mill and the "philosophical radicals." A fundamental divergence of principle, however, existed and was soon indicated by his speedy separation from the party and alienation from Mill himself. The Revolution, according to him, meant the sweeping away of effete beliefs and institutions, but implied also the necessity of a reconstructive process.[5]
Carlyle's doctrines, entirely opposed to the ordinary opinions of Whigs and Radicals, found afterwards an expositor in his ardent disciple John Ruskin, and have obvious affinities with more recent socialism.[5]
At the time he was as a man crying in the wilderness to little practical purpose. Liberals were scandalized by his apparent identification of "right" with "might," implied in the demand for a strong government; and though he often declared the true interpretation to be that the right would ultimately become might, his desire for strong government seemed too often to sanction the inverse view. He came into collision with philanthropists, and was supposed to approve of despotism for its own sake.[5]
His religious position was equally unintelligible to the average mind. While unequivocally rejecting the accepted creeds, and so scandalizing even liberal theologians, he was still more hostile to simply sceptical and materialist tendencies. He was, as he called himself, a "mystic"; and his creed was too vague to be put into any formula beyond a condemnation of atheism.[5]
Philosophy
Edit
Carlyle held that the universe was ultimately good and directed by a divine will that worked through the agency of heroes and leaders. In his Sartor Resartus, Carlyle challenged the basis of conventional faith and accepted pieties. He believed that religion required a new form where the essential truths, once revolutionary but grown ossified, were again made new. Anticipating New England transcendentalism, Carlyle argued that for faith to be valid, it must be informed by the soul's passions.[7]
For Carlyle, individualism and laissez-faire capitalism were undermining communal human and spiritual values. While recognizing political, economic, and social factors, he believed that these forces were essentially spiritual and needed to be directed by leaders with boldness and vision. His increasing hostility to modern egalitarian democracy would influence the development of socialism, while insistence upon the need for heroic leadership, paradoxically, contributed to the later emergence of fascism]. A late, notoriously racist essay suggesting that slavery should never have been abolished lent support to the American slave system and contributed to his break with liberal reformers such as John Stuart Mill.[7]
The Everlasting Yea and No
Edit
The Everlasting Yea is Carlyle's name for the spirit of faith in God in an express attitude of clear, resolute, steady, and uncompromising antagonism to the Everlasting No, and the principle that there is no such thing as faith in God except in such antagonism against the spirit opposed to God.[7]
The Everlasting No is Carlyle's name for the spirit of unbelief in God, especially as it manifested itself in his own, or rather Teufelsdröckh's, warfare against it; the spirit, which, as embodied in the Mephistopheles of Johann Wolfgang von Goethe, is for ever denying—der stets verneint—the reality of the divine in the thoughts, the character, and the life of humanity, and has a malicious pleasure in scoffing at everything high and noble as hollow and void.[7]
In Sartor Resartus, the narrator moves from the "Everlasting No" to the "Everlasting Yea," but only through "The Center of Indifference," which is a position not merely of agnosticism, but also of detachment. Only after reducing desires and certainty and aiming at a Buddha-like "indifference" can the narrator move toward an affirmation. In some ways, this is similar to the contemporary philosopher Soren Kierkegaard's "leap of faith" in Concluding Unscientific Postscript.[7]
In regards to the abovementioned "antagonism," one might note that William Blake famously wrote that "without contraries is no progression," and Carlyle's progress from the everlasting nay to the everlasting yea was not to be found in the "Centre of Indifference" (as he called it) but in Natural Supernaturalism, a Transcendental philosophy of the divine within the everyday.[7]
Based on Goethe calling Christianity the "Worship of Sorrow," and "our highest religion, for the Son of Man," Carlyle adds, interpreting this, "there is no noble crown, well worn or even ill worn, but is a crown of thorns."[7]
The "Worship of Silence" is Carlyle's name for the sacred respect for restraint in speech till "thought has silently matured itself, …to hold one's tongue till some meaning lie behind to set it wagging," a doctrine which many misunderstand, almost wilfully, it would seem; silence being to him the very womb out of which all great things are born.[7]
Heroes and hero worship
Edit
One corollary was the famous doctrine of "hero worship" first expounded in his lectures. Any philosophy of history which emphasized the importance of general causes seemed to him to imply a simply mechanical doctrine and to deny the efficacy of the great spiritual forces. He met it by making biography the essence of history, or attributing all great events to the "heroes," who are the successive embodiments of divine revelations.[5]
For Carlyle, chaotic events demanded what he called 'heroes' to take control over the competing forces erupting within society. While not denying the importance of economic and practical explanations for events, he saw these forces as essentially 'spiritual' in character — the hopes and aspirations of people that took the form of ideas, and were often ossified into ideologies ('formulas' or 'Isms', as he called them). In Carlyle's view only dynamic individuals could master events and direct these spiritual energies effectively. As soon as ideological "formulas" replaced heroic human action society became dehumanized.[7]
This dehumanization of society was a theme pursued in later books. In Past and Present (1843), Carlyle sounded a note of conservative scepticism that could later be seen in Matthew Arnold and John Ruskin: he compared the lives of the dissipated 19th-century man and a medieval abbot. For Carlyle the monastic community was unified by human and spiritual values, while modern culture deified impersonal economic forces and abstract theories of human 'rights' and natural 'laws'. Communal values were collapsing into isolated individualism and ruthless laissez-faire capitalism, justified by what he called the "dismal science" of economics.[7]
These ideas were influential on the development of socialism, but aspects of Carlyle's thinking in his later years also helped to form fascism. Carlyle moved towards his later thinking during the 1840s, leading to a break with many old friends and allies such as Mill and, to a lesser extent, Emerson. His belief in the importance of heroic leadership found form in his book "Heroes and Hero Worship," in which he compared different types of heroes. For Carlyle the hero was somewhat similar to Aristotle's "Magnanimous" man — a person who flourished in the fullest sense. However, for Carlyle, unlike Aristotle, the world was filled with contradictions with which the hero had to deal. All heroes will be flawed. Their heroism lay in their creative energy in the face of these difficulties, not in their moral perfection. To sneer at such a person for their failings is the philosophy of those who seek comfort in the conventional. Carlyle called this 'valetism', from the expression 'no man is a hero to his valet'.[7]
Sartor ResartusEdit
All the works of Carlyle shed light on his personality, but Sartor Resartus especially may be regarded as autobiographical.[1]
Carlyle earliest major work, Sartor Resartus (1832) was intended to be a new kind of book: simultaneously factual and fictional, serious and satirical, speculative and historical. It ironically commented on its own formal structure, while forcing the reader to confront the problem of where 'truth' is to be found. The narrator finds contempt for all things in human society and life. He contemplates the "Everlasting No" of refusal, comes to the "Centre of Indifference," and eventually embraces the "Everlasting Yea." This voyage from denial to disengagement to volition would later be described as part of the existentialist awakening. Carlyle establishes that the bases for common belief and faith are empty, that men are locked into hollow forms and satiated by vacuous pleasures and certainties. His narrator rebels against the smugness of his age and the positive claims of authority. He eventually finds that rage cannot provide a meaning for life, that he cannot answer the eternal question by merely rejecting all answers. He eventually comes to see that the matters of faith to common life can be valid, if they are informed by the soul's passions and the individual affirmation. He seeks a new world where religion has a new form, where the essential truths once revolutionary and undeniable are again made new. Sartor Resartus was initially considered bizarre and incomprehensible, but had a limited success in the United States, where it was admired by Emerson]], influencing the development of New England Transcendentalism.[7]
The failure of Sartor Resartus to attract average readers is quite intelligible. It contains, indeed, some of the most impressive expositions of his philosophical position, and some of his most beautiful and perfectly written passages. But there is something forced and clumsy, in spite of the flashes of grim humour, in the machinery of the Clothes Philosophy. The mannerism, which has been attributed to an imitation of Jean Paul, appeared to Carlyle himself to be derived rather from the phrases current in his father's house, and in any case gave an appropriate dialect for the expression of his peculiar idiosyncrasy. But it could not be appreciated by readers who would not take the trouble to learn a new language.[4]
French RevolutionEdit
After the completed manuscript of The French Revolution accidentally burned by the philosopher John Stuart Mill's maid, Carlyle had to begin again from scratch. The resulting version was filled with a passionate intensity, hitherto unknown in historical writing. In a politically charged Europe, filled with fears and hopes of revolution, Carlyle's account of the motivations and urges that inspired the events in France seemed powerfully relevant. Carlyle's style of writing emphasized this, continually stressing the immediacy of the action — often using the present tense. [7] Many readers hold it to be the best, as it is certainly the most characteristic, of Carlyle's books. [4]
In the French Revolution Carlyle had discovered his real strength. He was always at his best when his imagination was set to work upon a solid framework of fact. The book shows a unique combination: on the 1 hand is the singularly shrewd insight into character and the vivid realization of the picturesque; on the other is the "mysticism" or poetical philosophy which relieves the events against a background of mystery. The contrast is marked by the humor, which seems to combine a cynical view of human folly with a deeply pathetic sense of the sadness and suffering of life. The convictions, whatever their value, came, as he said, "flamingly from the heart." It was, of course,[4] impossible for Carlyle to satisfy modern requirements of matter-of-fact accuracy. He could not in the time have assimilated all the materials even then extant, and later accumulations would necessitate a complete revision. Considered as a "prose epic," or a vivid utterance of the thought of the period, it has a permanent and unique value.[5]
Oliver CromwellEdit
Carlyle's theory of the "hero" was implied in his next great work, the Life and Letters of Oliver Cromwell, published in 1845.[5] book presented a positive image of Oliver Cromwell: someone who attempted to weld order from the conflicting forces of reform in his own day. Carlyle sought to make Cromwell's words live in their own terms by quoting him directly, and then commenting on the significance of these words in the troubled context of the time. Again this was intended to make the 'past' 'present' to his readers.[7]
Cromwell was a man after Carlyle's own heart, and the portrait drawn by so sympathetic a writer is not only intensely vivid, but a very effective rehabilitation of misrepresented character. The "biographical" view of history, however, implies the weakness, not only of unqualified approval of all Cromwell's actions, but of omitting any attempt to estimate the Protector's real relation to the social and political development of the time. The question, what was Cromwell's real and permanent achievement, is not answered nor distinctly considered. The effect may be partly due to the peculiar form of the book as a detached series of documents and comments. The composition introduced Carlyle to the "Dryasdust" rubbish heaps of which he here and ever afterwards bitterly complained. A conscientious desire to unearth the facts, and the effort of extracting from the dullest records the materials for graphic pictures, made the process of production excessively painful.[5]
Frederick the Great Edit
His last major work was the epic life of Frederick the Great (1858-1865). In this Carlyle tried to show how a heroic leader can forge a state, and help create a new moral culture for a nation. For Carlyle, Frederick epitomised the transition from the liberal Enlightenment ideals of the 18th century to a new modern culture of spiritual dynamism, embodied by Germany, its thought and its polity.[7]
The book is in some respects his masterpiece, and its merits are beyond question. Carlyle had spared no pains in research. The descriptions of the campaigns are admirably vivid, and show his singular eye for scenery. These narratives are said to be used by military students in Germany, and at least convince the non-military student that he can understand the story. The book was declared by Emerson to be the wittiest ever written. Many episodes, describing the society at the Prussian court and the relations of Frederick to Voltaire, are unsurpassable as humorous portraiture. The effort to fuse the masses of raw material into a well-proportioned whole is perhaps not quite successful; and Carlyle had not the full sympathy with Frederick which had given interest to the Cromwell. A hero-worshipper with half-concealed doubts as to his hero is in an awkward position. Carlyle's general conception of history made him comparatively blind to aspects of the subject which would, to writers of other schools, have a great importance. The extraordinary power of the book is undeniable, though it does not show the fire which animated The French Revolution. A certain depression and weariness of spirit darken the general tone.[6]
After the Revolutions of 1848 and political agitations in the United Kingdom, Carlyle published a collection of essays entitled "Latter-Day Pamphlets" (1850) in which he attacked democracy as an absurd social ideal, while equally condemning hereditary aristocratic leadership. The latter was deadening, the former nonsensical: as though truth could be discovered by toting up votes. Government should come from the ablest. But how we were to recognize the ablest, and to follow their lead, was something Carlyle could not clearly say.[7]
His later writings were generally short essays, often indicating the hardening of Carlyle's political position. His notoriously racist essay, "An Occasional Discourse on the N*gger Question"[8] suggested that slavery should never have been abolished. It had kept order, and forced work from people who would otherwise have been lazy and feckless. This — and Carlyle's support for the repressive measures of Governor Edward Eyre in Jamaica — alienated him from his old liberal allies. Eyre had been accused of brutal lynchings while suppressing a rebellion. Carlyle set up a committee to defend Eyre, while Mill organised for his prosecution.[7]
Reminiscences Edit
The death of Carlyle's wife in 1866 came unexpectedly and plunged him into despair, during which he wrote his highly self-critical Reminiscences of Jane Welsh Carlyle. This was published after his death by his biographer James Anthony Froude, who also made public his belief that the marriage was unconsummated. This frankness was unheard of in the usually respectful biographies of the period. Froude's views were attacked by Carlyle's family, especially his nephew, Alexander Carlyle. However, the biography in question was consistent with Carlyle's own conviction that the flaws of heroes should be openly discussed, without diminishing their achievements. Froude, who had been designated by Carlyle himself as his biographer-to-be, was acutely aware of this belief.[7]
During Carlyle's later years the antagonism roused by his attacks upon popular opinions had subsided; and upon his death general expression was given to the emotions natural upon the loss of a remarkable man of genius. The 1883 publication of the Reminiscences by Froude produced a sudden revulsion of feeling. Carlyle became the object of general condemnation. Froude's biography, and the Memorials of Mrs Carlyle, published soon afterwards, strengthened the hostile feeling. Carlyle had appended to the Reminiscences an injunction to his friends not to publish them as they stood, and added that no part could ever be published without the strictest editing. Afterwards, when he had almost forgotten what he had written, he verbally empowered Froude to use his own judgment: Froude accordingly published the book at once, without any editing, and with many inaccuracies. Omissions of a few passages written from memory at a time of profound nervous depression would have altered the whole character of the book.[6]
Froude in this and the later publications held that he was giving effect to Carlyle's wish to imitate Johnson's "penance." No one, said Boswell, should persuade him to make his lion into a cat. Froude intended, in the same spirit, to give the shades as well as the lights in the portrait of his hero. His admiration for Carlyle probably led him to assume too early that his readers would approach the story from the same point of view, that is, with an admiration too warm to be repelled by the admissions. Moreover, Froude's characteristic desire for picturesque effect, unchecked by any painstaking accuracy, led to his reading preconceived impressions into his documents.[6]
The result was that Carlyle was too often judged by his defects, and regarded as a selfish and eccentric misanthrope with flashes of genius, rather than as a man with many of the highest qualities of mind and character clouded by constitutional infirmities. Yet it would be difficult to speak too strongly of the great qualities which underlay the superficial defects. Through long years of poverty and obscurity Carlyle showed unsurpassed fidelity to his vocation and superiority to the lower temptations which have ruined so many literary careers.[6]
His ambition might be interpreted as selfishness, but he certainly showed no coldness of heart. His unstinting generosity to his brothers during his worst times is a proof of the singular strength of his family affections. No one was more devoted to such congenial friends as Irving and Sterling. He is not the only man whom absorption in work and infirmity of temper have made into a provoking husband, though few wives have had Mrs. Carlyle's capacity for expressing the sense of injustice. The knowledge that the deepest devotion underlies misunderstandings is often a very imperfect consolation; but such devotion clearly existed all through, and proves the defect to have been relatively superficial.[9]
The harsh judgments of individuals in the Reminiscences had no parallel in his own writings. He scarcely ever mentions a contemporary, and was never involved in a personal controversy. But the harshness certainly reflects a characteristic attitude of mind. Carlyle was throughout a pessimist or a prophet denouncing a backsliding world. His most popular contemporaries seemed to him to be false guides, and charlatans had ousted the heroes. The general condemnation of "shams" and cant had, of course, particular applications, though he left them to be inferred by his readers.[9]
Carlyle was the exponent of many of the deepest convictions of his time. Nobody could be more in sympathy with aspirations for a spiritual religion and for a lofty idealism in political and social life. To most minds, however, which cherish such aspirations the gentler optimism of men like Emerson was more congenial. They believed in the progress of the race and the triumph of the nobler elements. Though Carlyle, especially in his earlier years, could deliver an invigorating and encouraging, if not a sanguine doctrine, his utterances were more generally couched in the key of denunciation, and betrayed a growing despondency. Materialism and low moral principles seemed to him to be gaining the upper hand; and the hope that religion might survive the "old clothes" in which it had been draped seemed to grow fainter.[9]
The ordinary mind complained that he had no specific remedy to propose for the growing evils of the time; and the more cultivated idealist was alienated by the gloom and the tendency to despair. To a later generation it will probably appear that, whatever the exaggerations and the misconceptions to which he was led, his vehement attacks at least called attention to rather grave limitations and defects in the current beliefs and social tendencies of the time. The mannerisms and grotesque exaggerations of his writings annoyed persons of refinement, and suggest Matthew Arnold's advice to flee "Carlylese" as you would flee the devil. Yet the shrewd common-sense, the biting humour, the power of graphic description and the imaginative "mysticism" give them a unique attraction for many even who do not fully sympathize with the implied philosophy or with the Puritanical code of ethics. The letters and autobiographical writings, whether they attract or repel sympathy, are at least a series of documents of profound interest for anyone who cares to study character, and display an almost unique idiosyncrasy.[9]
Critical reputation
Edit
The reputation of Carlyle's early work remained high during the 19th century, but declined in the 20th. His reputation in Germany was always high, because of his promotion of German thought and his biography of Frederick the Great. Friedrich Nietzsche] whose ideas are comparable to Carlyle's in some respects, was dismissive of his moralizing, calling him an "insipid muddlehead" in Beyond Good and Evil, regarding him as a thinker who failed to free himself from the very petty-mindedness he professed to condemn. Carlyle's distaste for democracy and his belief in charismatic leadership was unsurprisingly appealing to Adolf Hitler, who was reading Carlyle's biography of Frederick during his last days in 1945.[7]
This association with fascism did Carlyle's reputation no good in the post-war years, but Sartor Resartus has recently been recognized once more as a unique masterpiece, anticipating many major philosophical and cultural developments, from Existentialism to Postmodernism. It has also been argued that his critique of ideological formulas in The French Revolution provides a good account of the ways in which revolutionary cultures turn into repressive dogmatisms. Essentially a Romantic thinker, Carlyle attempted to reconcile Romantic affirmations of feeling and freedom with respect for historical and political fact. Nevertheless, he was always more attracted to the idea of heroic struggle itself, than to any specific goal for which the struggle was being made.[7]
Recognition
Edit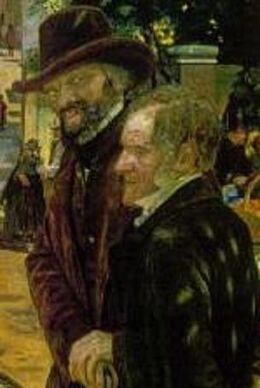 The worth of his Frederick was acknowledged by the Prussian Order of Merit in 1874. Also in 1874 Disraeli offered him the Grand Cross of the Bath and a pension.[6]
Carlyle's appearance has been made familiar by many portraits, none of them, according to Froude, satisfactory. The statue by Boehm on the Chelsea Embankment, however, is characteristic; and there is a fine painting by Watts in the National Portrait Gallery. J. McNeill Whistler's portrait of him is in the possession of the city of Glasgow.[6]
Carlyle is notable both for his continuation of older traditions of the Tory satirists of the 18th century in England and for forging a new tradition of Victorian era criticism of progress. Sartor Resartus can be seen both as an extension of the chaotic, sceptical satires of Jonathan Swift and Laurence Sterne and as an annunciation of a new point of view on values. Finding the world hollow, Carlyle's misanthropist professor-narrator discovers a need for revolution of the spirit. In one sense, this resolution is in keeping with the Romantic era's belief in revolution, individualism, and passion, but in another sense it is a nihilistic and private solution to the problems of modern life that makes no gesture of outreach to a wider community.[7]
Later British critics, such as Matthew Arnold, would similarly denounce the mob and the naïve claims of progress, and others, such as John Ruskin, would reject the era's incessant move toward industrial production. However, few would follow Carlyle into a narrow and solitary resolution, and even those who would come to praise heroes would not be as remorseless for the weak.[7]
Carlyle is also important for helping to introduce German Romantic literature to Britain. Although Samuel Taylor Coleridge had also been a proponent of Friedrich Schiller, Carlyle's efforts on behalf of Schiller and Goethe would bear fruit.[7]
Carlyle also made a favorable impression on some slaveholders in the United States southern states. His conservatism and criticisms of capitalism were enthusiastically repeated by those anxious to defend slavery as an alternative to capitalism, such as George Fitzhugh.[7]
Publications
Edit
Wotton Reinfred, A posthumous novel. New York: Waverly, 1892.
Non-fiction
Edit
The Life of Friedrich Schiller. London: Taylor & Hessey, 1825; Boston: Carter, Hendee, 1833.
German Romance (4 volumes), Edinburgh: William Tait; London: Charles Tait, 1827

(2 volumes), Boston: Munroe, 1841.

Sartor Resartus. Boston: Munroe, 1836; London: Saunders & Otley, 1838.
The French Revolution: A History (3 volumes), London: Fraser, 1837; (2 volumes), Boston: Little & Brown, 1838.
Critical and Miscellaneous Essays (4 volumes). Boston: Munroe, 1838; London: Fraser, 1839.

(1 volume), New York: D. Appleton, 1870.[10]

Chartism. London: Fraser, 1839; Boston: Little & Brown, 1840.
On Heroes and Hero Worship and The Heroic in History. London: Fraser, 1841; New York: Appleton, 1841.
Past and Present. London: Chapman & Hall, 1843; Boston: Little & Brown, 1843.
Latter-Day Pamphlets (eight pamphlets bound together). London: Chapman & Hall, 1850; Boston: Phillips, Sampson, 1850.
The Life Of John Sterling. London: Chapman & Hall, 1851; Boston: Phillips, Sampson, 1851.
Samuel Johnson. London: Chapman & Hall, 1853.[11]
Occasional Discourse on the N*gger Question. London: Bosworth, 1853.
History of Friedrich II. of Prussia, called Frederick the Great' (6 volumes). London: Chapman & Hall, 1858-1865; New York: Harper, 1858-1866.
Inaugural Address at Edinburgh, April 2nd, 1866. Edinburgh: Edmonston & Douglas/London: Chapman & Hall, 1866

enlarged as On the Choice of Books (includes letters by Carlyle). London: Hotten, 1869; Boston: Osgood, 1877.

Shooting Niagara: and After? London: Chapman & Hall, 1867.
The Early Kings of Norway: Also An Essay on the Portraits of John Knox. London: Chapman & Hall, 1875; New York: Harper, 1875.
Reminiscences by Thomas Carlyle (edited by James Anthony Froude). (2 volumes), London: Longmans, Green, 1881; (1 volume), New York: Scribners, 1881.
Reminiscences of my Irish Journey in 1849. London: Low, Marston, Searle & Rivington, 1882; New York: Harper, 1882.
Last Words of Thomas Carlyle, on Trades-Unions, Promoterism and The Signs of the Times. Edinburgh: William Paterson, 1882.
Reminiscences (edited by Charles Eliot Norton, 2 volumes). London & New York: Macmillan, 1887.
Last Words of Thomas Carlyle. London: Longmans, Green, 1892; New York: Appleton, 1892.
Carlyle's Unpublished Lectures: Lectures on the History of Literature or the Successive Periods of European Culture, Delivered in 1838 (edited by R.P. Karkaria). London & Bombay: Kurwen, Kane, 1892;

also published as Lectures on the History of Literature, Delivered by Thomas Carlyle, April to July 1838 (edited by J. Reay Greene). London: Ellis & Elvey, 1892.

Montaigne and Other Essays, Chiefly Biographical. London: Gowans, 1897; Philadelphia: Lippincott, 1897.
Historical Sketches of Notable Persons and Events in the Reigns of James I. and Charles I. (edited by Alexander Carlyle). London: Chapman & Hall, 1898; New York: Scribners, 1898).
Collected editions
Edit
Collectanea. Thomas Carlyle, 1821-1855 (edited by Samuel Arthur Jones). Canton, PA: Kirgate Press, 1903.
The Works of Thomas Carlyle, Centenary Edition (edited by H.D. Traill). (30 volumes), London: Chapman & Hall, 1896-1899; New York: Scribners, 1896-1901.
Translated
Edit
Elements of Geometry and Trigonometry; with Notes. Translated from the French of A.M. Legendre. (translated with an introductory chapter by Carlyle, edited by David Brewster). Edinburgh: Oliver & Boyd, 1824

revised edition, edited by Charles Davis. New York: Ryan, 1828.

Wilhelm Meister's Apprenticeship. A Novel. From the German of Goethe (3 volumes). Edinburgh: Oliver & Boyd; London: Whittaker, 1824

revised edition. London: Fraser, 1839; Philadelphia: Lea & Blanchard, 1840.
Oliver Cromwell's Letters and Speeches (3 volumes), London: Chapman & Hall, 1845-1846; (2 volumes), New York: Wiley & Putnam, 1846

revised and enlarged, (3 volumes). London: Chapman & Hall, 1846
revised and enlarged again (4 volumes). London: Chapman & Hall, 1850).

Letters and Memorials of Jane Welsh Carlyle (prepared for publication by Carlyle, edited by James Anthony Froude). (3 volumes), London: Longmans, Green, 1883; (2 volumes), New York: Scribners, 1883.
New Letters and Memorials of Jane Welsh Carlyle (annotated by Carlyle, edited by Alexander Carlyle, 2 volumes). London & New York: John Lane, 1903.
The Correspondence of Thomas Carlyle and Ralph Waldo Emerson, 1834-1872 (2 volumes). Boston: Osgood, 1883; London: Chatto & Windus, 1883)

supplementary volume, Boston: Ticknor, 1886.

Early Letters (edited by Charles Eliot Norton, 2 volumes). London & New York: Macmillan, 1886.
Correspondence between Goethe and Carlyle (edited by Norton). London: Macmillan, 1887.
Letters, 1826-1836 (edited by Norton). 2 volumes, London & New York: Macmillan, 1888.
Two Note Books of Thomas Carlyle from 23rd March 1822 to 16th May 1832 (edited by Norton). New York: Grolier Club, 1898.
Letters of Thomas Carlyle to His Youngest Sister (edited by Charles Townsend Copeland). Boston & New York: Houghton, Mifflin, 1899; London: Chapman & Hall, 1899.
New Letters of Thomas Carlyle (edited by Alexander Carlyle). 2 volumes), London & New York: John Lane, 1904.
The Love Letters of Thomas Carlyle and Jane Welsh (edited by Alexander Carlyle, 2 volumes). London & New York: John Lane, 1909.
Letters of Thomas Carlyle to John Stuart Mill, John Sterling and Robert Browning (edited by Alexander Carlyle (London: Unwin, 1923; New York: Stokes, 1923.
Letters of Thomas Carlyle to William Graham (edited by John Graham). Princeton: Princeton University Press, 1950.
Thomas Carlyle: Letters to His Wife (edited by Trudy Bliss). Cambridge, MA: Harvard University Press, 1953.
The Correspondence of Emerson and Carlyle (edited by Joseph Slater). New York: Columbia University Press, 1964.
The Letters of Thomas Carlyle to His Brother Alexander (edited by Edwin W. Marrs, Jr. Cambridge: Harvard University Press, 1968.
The Collected Letters of Thomas and Jane Welsh Carlyle (edited by Charles Richard Sanders, K. J. Fielding, Clyde de L. Ryals, and others), volumes 1- Durham: Duke University Press, 1970- .
Thomas and Jane: Selected letters From the Edinburgh University Library collection (edited by Ian Campbell). Edinburgh: Friends of Edinburgh University Library, 1980.
The Correspondence of Thomas Carlyle and John Ruskin (edited by George Alan Cate). Stanford: Stanford University Press, 1982.

Except where noted, bibliographical information courtesy the Poetry Foundation.[13]
References
Edit
↑ 1.0 1.1 1.2 John William Cousin, "Carlyle, Thoms," A Short Biographical Dictionary of English Literature, 1910, 73-74. Web, Dec. 22, 2017.
↑ 5.00 5.01 5.02 5.03 5.04 5.05 5.06 5.07 5.08 5.09 5.10 5.11 5.12 5.13 5.14 5.15 5.16 5.17

Stephen, 352.

↑ 6.00 6.01 6.02 6.03 6.04 6.05 6.06 6.07 6.08 6.09 6.10 6.11 6.12 6.13 6.14 6.15 6.16 6.17

Stephen, 353.

↑ 7.00 7.01 7.02 7.03 7.04 7.05 7.06 7.07 7.08 7.09 7.10 7.11 7.12 7.13 7.14 7.15 7.16 7.17 7.18 7.19 7.20 7.21 7.22 7.23 Thomas Carlyle, New World Encyclopedia, February 6, 2020. Web, Mar. 11, 2020.
↑ "An Occasional Discourse on the N*gger Question", Economics New Thought. Retrieved April 23, 2008.
↑ Critical and Miscellaneous Essays (1870), Internet Archive. Web, July 18, 2013.
↑ Samuel Johnson (1853), Internet Archive. Web, July 18, 2013.
↑ [Burns (1854), Internet Archive. Web, July 18, 2013.
↑ Ian Campbell, Thomas Carlyle 1795-1881, Poetry Foundation, Web, Aug. 17, 2012.
External links
Edit
Poems
Books
Audio / video
About

 This article incorporates text from a publication now in the public domain, the 1911 Edition of the Encyclopædia Britannica.. Original article is at Carlyle, Thomas
This article uses Creative Commons-licensed text from the New World Encyclopedia
Community content is available under
CC-BY-SA
unless otherwise noted.