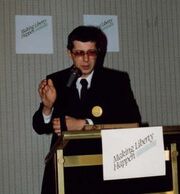 George J. Dance is my real name. You can read about me on the About Penny page and in my biography on PPP.
Francesca Abbate*, Mary Electa Adams*, Conrad Aiken bibliography*, Hew Ainslie*, Henry Alline*, Sascha Aurora Akhtar*, George Albon*, Bert Almon*, Matthew Arnold bibliography*, John Askham*, David Bates*, Charles Belford*, A.P. Bowen*, Louise Morey Bowman*, E.K. Brown, Charles Bruce*, Canadian Authors Association*, Canadian Poets*, A.P. Coleman*, Helena Coleman*, Sarah Anne Curzon,Feminine ending*, Glosa*, Katherine Hale*, Ronald Hambleton*, Headless verse*, Hypercatalectic*, George Benson Johnston, Mary Jane Katzmann, Leo Kennedy, Kenneth Leslie, List of poetic forms*, Goodridge MacDonald*, Jane Elizabeth MacDonald*, Isabel Mackay*, Miriam Mandel, David McFadden*, Catherine McKinnon*, Alexander McLachlan*, Montreal Group, Montreal Herald*, Desi Di Nardo*, New Provinces, Desmond Pacey*, Pattern poetry *, John Reade, Lloyd Roberts*, Theodore Goodridge Roberts, William Carman Roberts*, Joe Rosenblatt, W.W.E. Ross, Ryerson Press*, Sappho: One Hundred Lyrics, Songs of the Great Dominion, James Wreford Watson, Wilfred Watson.
- * not on Wikipedia.
Margaret Avison, Alfred Bailey, Earle Birney, Arthur Bourinot, William Wilfred Campbell, Bliss Carman, Fred Cogswell*, Confederation Poets, Isabella Valancy Crawford, The Double Hook, William Henry Drummond, Louis Dudek, The Fiddlehead*, Robert Duer Finch , Foot (poetry), Hector de Saint-Denys Garneau, John Glassco, Charles Heavysege, Anne Hébert, Pauline Johnson, Seaborn Jones , Raymond Knister, Archibald Lampman, Dennis Lee, Rosanna Eleanor Leprohon, William Douw Lighthall, Dorothy Livesay, Wilson MacDonald, Gwendolyn MacEwen, Tom MacInnes, Andrew Macphail, Jay Macpherson, Charles Mair, Anne Marriott, Edna St. Vincent Millay, Morpeth, Ontario, P.K. Page, Marjorie Pickthall, E.J. Pratt, James Reaney, Arthur Rimbaud, Charles G.D. Roberts, Christina Rossetti, Charles Sangster, Gino Santercole, Duncan Campbell Scott, Frederick George Scott, Seranus, Robert W. Service, Francis Sherman, A.J.M. Smith, David Solway*, The Song Fishermen, Songs of a Sourdough, Raymond Souster, Arthur Stringer , Edith M. Thomas, The Toronto Mail, Towards the Last Spike, Verse (poetry)*, Sheila Watson, Elinor Wylie.
Community content is available under
CC-BY-SA
unless otherwise noted.