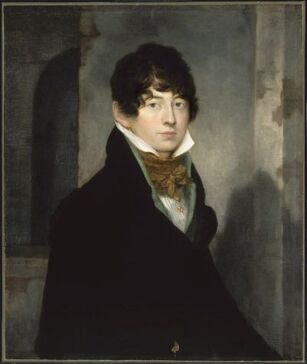 Washington Allston

Born
November 5, 1779
Near Georgetown, South Carolina
Died
July 9, 1843
Cambridge, Massachusetts
(aged 63)
Occupation
Painter
Poet
Washington Allston (November 5, 1779 - July 9, 1843)[1] was an American poet and painter, known as "The American Titian."[2]
Allson was born on 5 November 1779 at Waccamaw, South Carolina, where his father was a planter.[3]
His mother Rachel (Moore) had married Captain William Allston in 1775; her husband died in 1781, shortly after the Battle of Cowpens.[4] She married again, to Dr. Henry C. Flagg, the son of a wealthy shipping merchant from Newport, Rhode Island.[5]
His talent for drawing manifested itself at an early age, and his chief pleasure was in drawing and sketching. At 7 years of age he was sent to Newport to prepare for college.[1]
Allston attended Harvard, where he earned a B.A. in 1800.[6] His 1st essay at painting was a portrait of the eldest son of Dr. Waterhouse, professor of medicine at Harvard; and this was followed by portraits of 4 members of the Channing family.[1]</ref>
For a short time he pursued his artistic studies at Charleston with Edward Greene Malbone (1777-1807), the miniature painter, and Charles Fraser (1782-1860). With the former, in 1801, he went to London, and entered the Royal Academy as a student of Benjamin West, with whom he formed a lifelong friendship.[3]
In 1804 he went to Paris, and, after a few months' residence there, to Rome, where he spent the greater part of the next 4 years. During this period he became intimate with Coleridge and Thorwaldsen. From 1809 to 1811 he lived in his native country, and from 1811 to 1817 he painted in England.[3]
In color and the management of light and shade Allston closely imitated the Venetian school, and has been styled the "American Titian." Many of his pictures have Biblical subjects, and Allston himself had a profoundly religious nature.[3]
In England hepainted his "St Peter Liberated by the Angel," "Uriel in the Sun" (at Stafford House), "Jacob's Dream" (at Petworth) and "Elijah in the Wilderness."[3]
After revisiting Paris, In 1809 he returned to America and married Ann Channing, a sister of William Ellery Channin.[1] His 1st considerable painting, "The Dead Man Revived," executed shortly after his 2nd visit to England, and now at the Pennsylvania Academy of Fine Arts in Philadelphia, gained a prize of 200 guineas.[3]
He practiced his profession at Boston (1818-1830), and afterwards at Cambridge, Massachusetts.[3] His 2nd wife, whom he married in 1830, was a sister of Richard Henry Dana.[1] To the period of his residence in America belong "The Prophet Jeremiah" (at Yale), "Saul and the Witch of Endor," "Miriam," "Beatrice," "Rosalie," "Spalatro's Vision of the Bloody Hand," and the vast but unfinished "Belshazzar's Feast" (in the Boston Athenaeum), at which he was working at the time of his death.[3]
He died in Cambridge on 9 July 1843.[3] He is buried in Harvard Square, in "the Old Burying Ground" between the First Parish Church and Christ Church.
As a writer, Allston shows great facility of expression and imaginative power. His friend Coleridge (a portrait of whom by Allston is in the National Gallery) said of him that he was surpassed by no man of his age in artistic and poetic genius.[3] His "America to Great Britain" was declared by Charles Sumner to be "one of the choicest lyrics in the language," and it was incorporated in Sybilline Leaves.[1] Some of his other works are: "The Sylphs of the Seasons", a poem read before the Phi Beta Kappa at Cambridge, and published in 1813; "The Paint King;" and "The Two Painters."[1]
His books are: The Sylphs of the Seasons, and other poems (1813), where he displays true sympathy with nature and deep knowledge of the human heart; Monaldi (1841), a tragical romance, the scene of which is laid in Italy; and Lectures on Art, edited by his brother-in-law, novelist Richard Henry Dana (1850).[3]
Recognition
Edit
Allston was elected an associate of the Royal Academy in 1819.[3]
Allston's work greatly influenced the development of American landscape painting. His artistic genius was much admired by Coleridge, and Ralph Waldo Emerson was strongly influenced by his paintings and poems, as were both Margaret Fuller and Sophia Peabody, wife of Nathaniel Hawthorne.[7][7]
Influential critic and editor Rufus Wilmot Griswold dedicated his famous anthology The Poets and Poetry of America to Allston in 1842.[8] Henry Wadsworth Longfellow, 17 years after Allston's death, wrote that: "One man may sweeten a whole time. I never pass through Cambridge Port without thinking of Allston. His memory is the quince in the drawer and perfumes the atmosphere."[5]
Boston painter William Morris Hunt was an admirer of Allston's work, and in 1866 founded the Allston Club in Boston, and in his arts classes passed on to his students his knowledge of Allston's techniques.[9]
Allston coined the term "objective correlative," which T.S. Eliot described as a situation or a chain of events that acts as a formula and is used in art to evoke emotion.
The west Boston neighborhood of Allston, Massachusetts, is named after him.
Publications
Edit
Exhibition of pictures painted by Washington Allston : at Harding's Gallery. Boston: J.H. Eastbourne, 1839.
Outlines and Sketches (engraved by J. & S.W. Cheney). Boston: S.H. Perkins, 1850.
Exhibition of the works of Washington Allston, June - October, 1881, Museum of Fine Arts, Boston. Boston: A. Mudge, 1881.
Washington Allston, 1779-1843: A loan exhibition of paintings, drawings and memorabilia. Detroit Institute of Art, 1947.
The Paintings of Washington Allston : [exhibition] March 6 through April 13, 1975. Coral Gables, FL: Lowe Art Museum, 1975.
Collected editions
Edit
Lectures on Art, and Poems (edited by Richard Henry Dana). New York: Baker & Scribner, 1850.

facsimile edition, (with Monaldi). Gainesville, FL: Scholars' Facsimiles & Reprints, 1967.

Except where noted, bibliographical information courtesy WorldCat.[10]
References
Edit
 Chisholm, Hugh, ed (1911). "Allson, Washington". Encyclopædia Britannica. 1 (11th ed.). Cambridge University Press. p. 709.

 

. Wikisource, Web, Mar. 23, 2018.
Hubbell, Jay B. The South in American Literature: 1607-1900. Durham, North Carolina: Duke University Press, 1954.
↑ 1.0 1.1 1.2 1.3 1.4 1.5 1.6 "Washington Allston," Twentieth Century Biographical Dictionary of Notable Americans I (1904). English Poetry, 1579-1830, Web, Apr. 17, 2016.
↑ John William Cousin, "Allston, Washington," A Short Biographical Dictionary of English Literature, 1910, 10.
↑

Hubbell, 274.

↑ Washington Allston, English Poetry, 1579-1830. Web, Apr. 17, 2016.
↑ 7.0 7.1 Vetter, H.F. "Poets of Cambridge, USA". Harvard Square Library (2006). http://www.harvardsquarelibrary.org/poets/allston.php

. Retrieved 2007-06-12

.

 

↑ *Pattee, Fred Lewis (1966). The First Century of American Literature: 1770–1870. New York: Cooper Square Publishers. pp. 279.

 

↑ Wright, Nathalia. The Correspondence of Washington Allston, Published by University Press of Kentucky, 1993, ISBN 0813117089
↑ Search results = au:Washington Allston, WorldCat, OCLC Online Computer Library Center Inc. Web, Oct. 30, 2013.
External links
Edit
Poems
Books
Art
About
Etc.
Community content is available under
CC-BY-SA
unless otherwise noted.