Wilfred Rowland Childe (1890-1952) was an English poet and academic.
Childe was born in Wakefield, West Yorkshire, in 1890, the eldest of 4 sons of Kate (France) and Henry Slade Childe, a mining engineer from Bradford.[1]
He was educated at Harrow School and Magdalen College, Oxford. He edited Oxford Poetry from 1916 to 1920. He became a Roman Catholic convert in 1916.[2]
He is chiefly remembered for Dream English: A fantastical romance (1917) which was and still is something of a minor cult book. He was admired by Arthur Machen and later by poet Robin Skelton.[3]
In 1922 he joined the English School, University of Leeds, where he was a colleague of J.R.R. Tolkien. The 2 men became friends, and Childe was the godfather of Tolkien's son, Christopher.[2]
His Selected Poems were published in 1936. He associated with the Sitwells, but was no modernist; he has been described as "almost too Georgian to be true".[3]
He was a member of the Brontë Society for some years, and in the last few months of his life served on the Council of the Society.[4]
Publications
Edit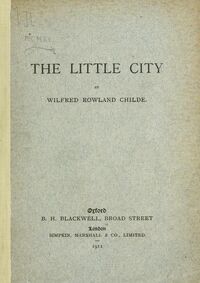 The Little City. Oxford, UK: Blackwell / London: Simkin, Marshall, 1911.
The Escaped Princess, and other poems. Oxford, UK: Blackwell, 1916.
The Hills of Morning: Poems. Leeds, UK: W. Brierley, 1921.
The Gothic Rose, and other poems. New York: Appleton, 1923.
The Garland of Armor: Sixteen poems of North England. Leeds, UK: Swan Press, 1923.
The Ballad of Jak and Anne. Leeds, UK: Swan Press, 1925.
Ivory Palaces: Poems. London: Kegan Paul, Trench, Trubner, 1925.
Samgyll in the Marsh. Bradford, UK: Beamsley House, 1926.
The Country of Sweet Bells. Leeds, UK: Swan Press, 1927.
The Happy Garden: Poems. London: Sheed & Ward, 1927.
The Golden Thurible: Poems. London: Cecil Palmer, 1931.
Fountains and Forests. Bradford, UK: Beamsley House, 1935.
Selected Poems. London & New York: T. Nelson and Sons, 1936.
Thrift and Sea-Campion: island poems. Bradford, UK: Beamsley House, 1948.
The Blessèd Pastures. Hull, UK: Lotus Press, [1950?]
Non-fiction
Edit
Blue Distance (travel writing). London: Swan Press, 1930.
The Literary Background of the Brontës. Brontë Society, 1944.
Henry Vaughan. London, 1945.
Oxford Poetry, 1916. Oxford, UK: Blackwell, 1916.
Oxford Poetry, 1917 (edited with Dorothy L. Sayers & T.W. Earp). Oxford, UK: Blackwell, 1918.
Oxford Poetry, 1917-1919. Oxford, UK: Blackwell, 1920.

Except where noted, bibliographical information courtesy WorldCat.[5]
References
Edit
External links
Edit
Poems
Books
About
This is a signed article by User:George Dance. It may be edited for spelling errors or typos, but not for substantive content except by its author. If you have created a user name and verified your identity, provided you have set forth your credentials on your user page, you can add comments to the bottom of this article as peer review.
Community content is available under
CC-BY-SA
unless otherwise noted.