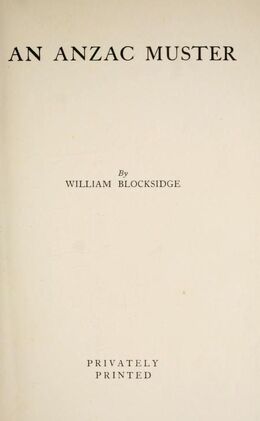 William Baylebridge was the pseudonym of Charles William Blocksidge (12 December 1883 – 7 May 1942), an Australian poet and short story writer.
Blocksidge was born in Brisbane, Queensland, the son of George Henry Blocksidge, an auctioneer and estate agent. He was educated at Brisbane Grammar School and by a private tutor David Owen, M.A., a classical scholar who became a close friend.
In 1908 Blocksidge travelled to London with his friend Robert Graham Brown. He travelled the Continent and published ten books including two of prose, beginning with Songs of the South, which was followed a year later by Australia to England and other Verses. Both of these books were suppressed shortly after their publication.
In 1910 no fewer than four volumes were privately printed, Moreton Miles, Southern Songs, A Northern Trail, and The New Life, of which copies were sent to the principal public libraries, but few, if any, were sold to the public. There was no publisher's name on any of the volumes, and nothing to suggest where they had been printed. One of these books, however, The New Life, was reviewed in The Bulletin on 14 March 1912, and the anonymous reviewer (most likely Arthur Henry Adams) pronounced it "an astonishing thing to have come from Australia--astonishing in its crudeness and occasional strength, equally astonishing in its gassy rhetoric and its foolishness". In another place he suggested that here was "a new prophet, a new poet--or a new lunatic". But evidently the effects of the volume's strength were greater than those of its weakness, for the book was referred to several times in later issues.
Life's Testament, c. 1914, A Wreath, c. 1916, and Seven Tales, 1916, were also privately printed, and attracted no notice, but in 1919 a volume of Selected Poems was published by Gordon and Gotch in Brisbane which slowly made its way, helped by a literary group at Melbourne of whom Vance and Nettie Palmer and Frank Wilmot were the leaders.
Baylebridge had returned to Queensland in 1919, but soon moved to Sydney. He had travelled extensively in Europe, Egypt and the East, and is stated to have done "special literary work" during World War I. His familiarity with the subjects of the stories in his An Anzac Muster, privately printed in 1921, suggests that he had personal experience at the front, but there appears to be no evidence to show that he belonged to any of the fighting forces.
Baylebridge died on 7 May 1942, he was unmarried.
He endowed the Grace Leven Prize for Poetry in memory of his aunt, Grace Leven (1865-1922).[1]
As Baylebridge, he was considered by some as one of the leading Australian poets in his day, but modern critics have a higher view of his short stories than his poetry, which has been called "unwieldy" (cf Roberts). Historians and literary historians today condemn Baylebridge's political agenda of populist nationalism (cf Jupp), as well as his interest in vitalism. During his time in London, he developed Nietzschean ideas about Australia's future, which prefigure interwar fascism (cf Davison).
Publications
Edit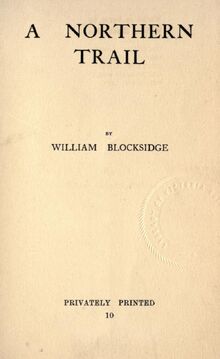 Songs o' the South. London: Watts, 1908.
Australia to England, and other verses. London: David Nutt, 1909.
Moreton Miles. [London?]: privately printed, 1910; 4th edition, Sydney: Tallabila Press, 1941.
A Northern Trail. [London?]: privately printed, 1910.
Southern Songs. [London?]: privately printed, 1910.
Life's Testament: Songs from the hill of the seven echoes. [London?]: privately printed, [1914?]; Sydney: Tallabilla Press, 1939.
A Wreath. [London?]: privately printed, [1915?]
Seven Tales. [London?]: privately printed, [1916?]
Selected Poems. Brisbane: Gordon & Gotch, 1919.
Love Redeemed (sonnets). Sydney: Tallabila Press, 1934.
Sextains. Sydney: Tallabilla Press, 1940.
Short fiction
Edit
Non-fiction
Edit
The New Life: A national tract. [London?]: privately printed, [1915?]
National Notes. [Sydney?] privately printed, 1921; Sydney: Tallabila Press, 1936.
This Vital Flesh. Sydney: Tallabila Press, 1939.
Collected editions
Edit
Collected works of William Baylebridge (edited by Percy R. Stephenson). Sydney : Angus & Robertson, 1961-1964.

Volume I: This Vital Flesh. 1961.
Volume II: An ANZAC Muster. 1962.
Volume III: The Growth of Love. 1963.
Volume IV: Salvage (selected poetry). 1964.

Except where noted, bibliographical information courtesy WorldCat.[2]
References
Edit
Jupp, James (ed.) The Australian People: An Encyclopedia of the Nation, its People and their Origins (2nd ed., 2001: Cambridge, Cambridge University Press)
Roberts, Neil (ed.) A Companion to Twentieth-Century Poetry (2001: Oxford, Blackwell)
Davison, Graeme (ed.) The Oxford Companion to Australian History (rev. ed., 2001: Oxford, Oxford University Press)
Serle, Percival (1949). "Baylebridge, William". Dictionary of Australian Biography. Sydney: Angus and Robertson. http://gutenberg.net.au/dictbiog/0-dict-biogBa.html#baylebridge1.

 

Nancy Bonnin, 'Baylebridge, William (1883 - 1942)', Australian Dictionary of Biography, Volume 7, MUP, 1979, pp 218-219
Additional sources listed by the Australian Dictionary of Biography
H. A. Kellow, Queensland Poets (Lond, 1930); T. I. Moore, Six Australian Poets (Melb, 1942); C. H. Hadgraft, Queensland and its Writers (Brisb, 1959); N. Macainsh, Nietzsche in Australia (Munich, 1976); Southerly, 16 (1955), 35 (1975); Australian Literary Studies, 7 (1975-76), no 2; Quadrant, Mar-Apr 1975; Westerly, Mar 1975; Sydney Morning Herald, 19 Jan 1935, 17 Oct 1936, 4 May 1940, 16 May 1942, 22 May 1943; The Bulletin, 10 Aug 1938; W. Baylebridge manuscripts (State Library of New South Wales); H. M. Green manuscripts (National Library of Australia); Vance and Nettie Palmer papers (National Library of Australia); P. R. Stephensen correspondence (State Library of New South Wales)
↑ Baylebridge, William, 1883-1942, SNAC Social Networks and Archival Content, University of Virginia. Web, Apr. 25, 2014.
↑ Search results = au:William Baylebridge, WorldCat, OCLC Online Computer Library Center Inc. Web, Apr. 25, 2014.
External links
Edit
Poems
Books
About
Community content is available under
CC-BY-SA
unless otherwise noted.